Why does God allow tragedy to happen? Have you ever asked yourself this question? Have you ever thought how you would answer this question? Why tragedy happens. Does God cause it to happen?
I hope to give somewhat of an explanation of the answer to this question. Most of this post can be considered my opinion, while it will also be backed up with scripture from the Bible, and my understanding of those scriptures.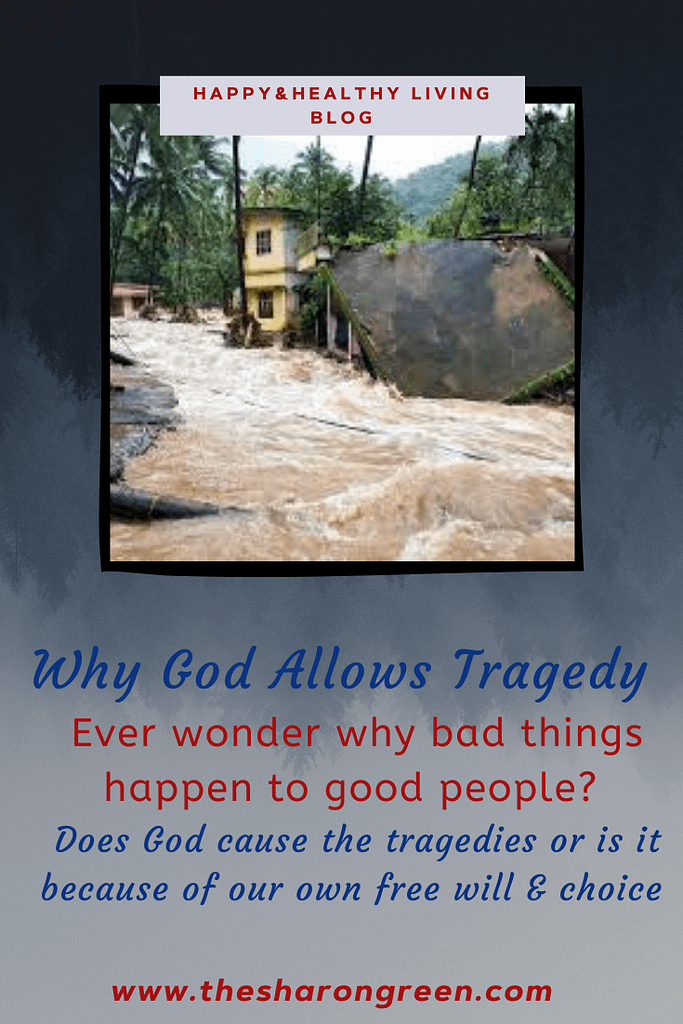 ***Disclosure -Some links in this post may contain
affiliate links and I may receive a small commission
(at no extra cost to you)if you make a purchase after
clicking on a link. To view full disclosure click the
Privacy/Policy tab at the top of the page. ***
Why Does God Allow Tragedy
As a Christian I have struggled with this question for a very long time. I often ask myself why tragedies happen?
I believe that God is a loving God, and that He doesn't want bad things to happen to us. I believe God only wants what is best for us.
So what does God feel is the best things for us? That's the real question behind why tragedies happen to us.
Knowing how God thinks and feels is actually beyond our human comprehension. God is the great "I AM". God is the alpha and omega–the beginning and the end. Again, that fact is hard for us as humans to understand–we only must believe in God's almighty power.
8 "For My thoughts are not your thoughts, Nor are your ways My ways," declares the Lord.

9 For as the heavens are higher than the earth, So are My ways higher than your ways. And My thoughts than your thoughts."

Isaiah 55:8-9
People simply can not think or understand on God's level. He is above us in all ways. That is amazingly awesome to me. I simply have faith that God does exist and there are things I will not understand here on earth.
We only need to believe that:
God loves us (every single person)
God cares for us
God only wants good for us
So first, we need to know and believe those things, and then understand that we cannot think like God. How God loves and cares for us, sometimes may include allowing us to go through tragedies in order to learn and grow, and to build our faith in Him.
Comparing "I Am" to "I Can"
As I previously said, God is "I AM". God is everything!
13 Then Moses said to God, "Behold, I am going to the sons of Israel, and I will say to them, 'The God of your fathers has sent me to you.' Now they may say to me, 'What is His name?' What shall I say to them?" 14 God said to Moses, "I AM WHO I AM"; and He said, "Thus you shall say to the sons of Israel, 'I AM has sent me to you.'"

Exodus 3:13-14
The only true way to describe God is that He is alpha and omega. From the beginning to the end, God was and is the Great Creator of the Heavens, the Earth, and all living things. God will always be before us and above us. God is the great "I AM" and is worthy of all our praises.
Therefore, it is actually unreasonable to compare us to God, but to try and understand our roles in this extradorinary universe, it is easiest to tell you that while God is "I AM", and He controls everything, we still think in terms of "I Can".
We mere humans, that God created, tend to always think of ourselves, and think "I Can" do everything myself.
But remember this:
13 I can do all things through Him who strengthens me.

Phillipians 4:13
God gives us free will to choose and make decisions. While we are capable of doing things ourselves, remember we are given strength only through Him. By believing in God and being obedient to His commandments we are given strength to accomplish all that we do, as we do it for Him.
Why Tragedy Happens
In view of current events, especially throughout this year of 2020, tragedies seem to be abundant among us.
All of the natural disasters–wildfires, hurricanes, locust in Africa, and the pandemic have heightened my own awareness of tragedies going on around us today. All that is happening this year has brought my awareness to expand beyond my "own backyard" and thinking of other people all over the world. That is what triggered me to think more about why tragedy happens. Why is God allowing all this tragedy?
Why is so much Tragedy Happening
My personal opinion and belief is that God is allowing all the tragedy in order to get our attention. God wants us to focus more on Him than on material things.
Natural disasters, violence, and death– all tragedies that are happening to us daily are not coincidences–I believe they are our call from God to put our faith in Him.
I believe there is always a lesson for us to learn through personal tragedies. Why do bad things keep happening to me no matter how hard I try to do better? Because of my own choices/decisions, and not listening to where God is leading me.
However, as I believe that we must endure trials and tragedies in our lives, I also believe God is allowing so much tragedy to happen now because "we"–as a society–have put more of our value, importance and focus onto technology, ourselves, and material things we want and own.
Who Is In Control
While some tragedies are in direct relation to a bad choice we may have made– many tragedies, such as natural disasters and death– are way beyond our control.
God allows tragedies in our lives in order to remind us of "who is in control". The great "I AM" (God) is always in control.
13 Come now, you who say, "Today or tomorrow we will go to such and such a city, and spend a year there and engage in business and make a profit." 14 Yet you do not know what your life will be like tomorrow. You are just a vapor that appears for a little while and then vanishes away. 15 Instead, you ought to say, "If the Lord wills, we will live and also do this or that."

James 4:13-15
Tragedy Reminds Us of What's Most Important
Tragedy can quickly remind us of what is most important to us.
We all become easily concerned with our lives, our families, our income and our worldly belongings. It's only natural to be concerned with these things.
But, during a natural disaster, your home, cars, everything you own can easily be destroyed, lost, and gone in the blink of an eye. You feel devastated and defeated, and then you realize how grateful you are to just be alive.
During illness, again you forget about all your belongings and long for yourself or your loved one to be well, healed and healthy.
During the pandemic and the isolation due to COVID-19, we all quickly put aside worldly pleasures and conveniences. We suddenly found ourselves huddled at home with family and the ones you held dearest. We did what we had to do to protect ourselves and those we love.
Tragedy Reminds Us To Love One Another
Tragedy always makes us feel sad. We should allow ourselves to grieve losses, but in the midst of that grief people show victims more love and compassion.
People tend to naturally want to reach out and help those that are suffering and hurting due to uncontrolled circumstances.
During hurricanes, and other natural disasters, you see so many everyday people coming to help. You see churches, communities, states and even the nation coming "to the rescue".
Entire towns and even states band together and do whatever they possibly can to help complete strangers.
Reaching out to help is a basic human desire to assist those in need. We all have that love and compassion inside of us.
As Christians, we look at that desire as our need to do God's work. We become more fulfilled by being "God's hands and feet" here on earth.
2 Bear one another's burdens, and thereby fulfill the law of Christ.

Galatians 6:2
A Call to Love One Another
Majority of people, rather they are Christians or non-believers, want peace, understanding, respect and love of others.
Even the protests are cries for respect, love, and understanding. Every human desires and needs respect and compassion. We all want to be understood and respected by others. Deep down we want and need to be accepted and cared about, so why shouldn't we offer that same acceptance and concern to everyone else? You must first give respect in order to receive it from others.
34 "A new commandment I give to you, that you love one another, even as I have loved you, that you also love one another."

John 13:34
In Conclusion
Ever tragedy that we endure will either break us or makes us stronger. There is always a lesson to be learned through tragedy.
Either a personal lesson to remind us what is most important in life and where/who we should focus, or through someone else's tragedy we are given the opportunity to help, show love and compassion, and to do God's work.
Every personal mess can become your own message to others. How we love and care for one another is a constant testimony of love–God's love for us.
Is your faith and trust in God, the great I AM, or do you always think "I can do it" without God's love and strength?
God gives us grace and mercy, just as we should do to others through love and understanding.
Please leave me a comment with your opinions and/or beliefs on this topic. And please share this post!!
Until next time,
Sharon