Texas Dance Halls have always been a big part of Texas culture, a tradition that many Texans have enjoyed since the mid-nineteenth century.
***Disclosure -Some links in this post may contain
 affiliate links and I may receive a small commission
 (at no extra cost to you)if you make a purchase after
 clicking on a link. ***
My love of Texas Dance Halls began early
I grew up loving music, especially country music and I first learned to dance at my high school Homecoming dances. Alumni and current students all gathered on a Saturday night in the school's gymnasium for the big dance. There on that wooden floor, I first learned to dance.
Of course, as young first-time dancers, we were awkwardly swaying around the floor, sometimes stumbling and stepping on each others' toes. But as I watched older couples moving in sync, perfectly in step with each other, gliding so gracefully together, I knew I wanted to dance like that with a partner!
It wasn't long after those first few attempts at dancing that I visited a true Texas dance hall for my first time! And I was hooked! My friends and I spent numerous Saturday nights there perfecting our two-step, waltz and line dances.
My first visit to a Texas Dance Hall
It was a white clapboard building down a small country road only 15 miles or so from home. It's an SPJST hall and it's family-friendly atmosphere welcomed all ages. The place is known as Elk Hall, not far outside of Waco, TX. It was over 40 years ago when I first entered those doors, and I still love going there today.
Elk Hall is a historic Texas Dance Hall, complete with the wooden dance floor, dancers of all ages, and the requisite local and up-and-coming Texas country bands. Not only do I love the laid back atmosphere, great country music, and wonderful food from the concession stand, but I also love the nostalgia of it all.
After all these years to still go back there on a Saturday night with old friends, remembering those nights long ago with my brother and high school friends as we learned to dance. Then other nights when my brother and I took our own kids there to learn to dance. Passing on Texas tradition at one of my favorite places.
My favorite Texas Dance Hall
The Texas Dance Hall that became my very favorite "hang-out" would not make the list of "historic" Texas Dance Halls, but a lot of local history was made there in the 1980s and into the 1990s. While it may not be considered historic, it is one of the oldest Texas dance halls, as it was built in the 1970s.
The place I loved so much was The Cowboy Western Club in Mexia, Texas. The Cowboy had one of the largest wooden dance floors (2400 sq feet) in Central Texas during its heyday. And it stayed packed at least 3 nights a week.
The Cowboy hosted many well-known Country artists, including George Strait before he became the King of Country. George Strait played there on numerous occasions, and you can bet I was in attendance every time!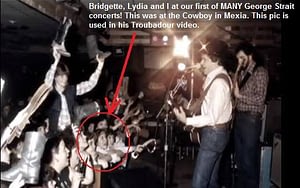 Other Top Artists I remember appearing
There were many Top Artists of the time period that performed at The Cowboy Western Club. I was in attendance for most of them, but I'm sure I missed a few or will even forget to mention a few in this list. However, this is a list of most of the ones I remember enjoying and dancing to their performances:
George Strait (as already mentioned)
Gary Stewart
Conway Twitty
Jerry Lee Lewis
Lori Morgan
Willie Nelson
Janie Fricke
Johnny Bush
John Anderson
Crystal Gayle
I've also enjoyed newer artists such as Aaron Watson and Kevin Fowler there in more recent years. The Cowboy has always hosted many local Texas bands as well as top artists.
While The Cowboy Western Club is still physically there, it has not been open for business in over a year now. Sadly I'm afraid it may finally become one of the many non-functioning Texas Dance Halls.
How Texas Dance Halls started
According to Texas Dance Hall Preservation, Inc. early in Texas history dance halls were among the first buildings built in new communities. These dance halls were often the most prominent landmarks of many of these early settlements. These large buildings provided gathering places for numerous functions.
The following quote from the Texas Dance Hall Preservation, Inc. article explains it very well:
In the rural Texas culture of this period, these halls were as important to community life as courthouses and churches. From the beginning, these halls were the focus of social dances. In time, they became one of the crucial vehicles for the development of Texas music in the twentieth century.

https://tshaonline.org/handbook/online/articles/xat12
It is evident that the dance halls have been incubators for a rich culture of numerous popular music styles, the diverse forms of "Texas music" as it is known around the world today. From the nineteenth-century brass bands, polka bands, string bands, and fiddle-oriented ranch dance ensembles, the unique mix of musical genres that was nurtured in these halls cross-pollinated with the state's varied ethnic cultures. In this manner, western swing, honky-tonk, conjunto, Tejano, barrelhouse blues, and other subgenres were born and raised in this unique Texas institution. For more than 135 years, these halls have been the home to Texas music.

https://tshaonline.org/handbook/online/articles/xat12
The Appeal of Texas Dance Halls
As you can clearly see by now, I am in full support of the Texas Dance Halls Preservation organization. As a true Texan from birth, I love the Texas culture and traditions. I also love music in general and I cannot express how much I enjoy dancing.
One of my favorite descriptions of historic Texas Dance Halls can be found on the opening page of the TDHP website.
Texas dance halls are about family, history, romance, and a way of life. Dance halls are where generations of Texans have played and listened to some of the best music made in America. At a dance hall, you can fall in love, and then teach your children and grandchildren to dance … catch up with friends and neighbors, welcome newcomers, and create the social ties that bind our towns and our state together. Come on out and see for yourself what makes a historic dance hall one of the most Texas things there is.

https://texasdancehall.org/
Perhaps I've told you a lot of what I like about dance halls and that I love to dance, or maybe I haven't described it well enough.
If you don't dance, or don't prefer country music it might be difficult to understand the appeal of Texas Dance Halls. But if you've never gone to a dance hall, I encourage you to take a group of friends go have a little fun, relax and just truly experience it.
Things about a dance hall that I love
First, it's the atmosphere… relaxed laid back and plain ole neighborly folk visiting, laughing and enjoying the evening. Meeting new people or seeing old friends. Dancing the night away or just listening to music while interacting with people.
Then it's the music, there's just something about the sound of a live band playing that pure Texas country music. The sweet sound of a fiddle and the twang of a steel guitar mixed with the bass, electric and sometimes an acoustic guitar. Add those drums and the place is hopping!
The bands take breaks and during this time a little rock n' roll is played. You can't seem to help but swing, sway and move to the music before the night is over.
Original Texas Dance Halls still in full operation today
Back when Texas Dance Halls were in full swing and widely popular, there were more than 1,000 halls open and operating across the state of Texas. Today there is probably closer to only 400 of the original or historic dance halls that are still in operation.
I won't even attempt to list all of the historic dance halls still in operation, but I will list a couple of the more well-known ones.
Gruene Hall, located in Gruene, TX was built in 1878, it is Texas' oldest continually operating and most famous dance hall.
Gruene Hall has become internationally recognized as a destination tourist attraction and major music venue for up-and-coming as well as established artists. Since 1975, the Hall has played host to hundreds of celebrities whose pictures adorn the walls.

https://gruenehall.com/about/
Not Historic or Original but worth mentioning
This next Texas Dance Hall I want to mention is Billy Bob's Fort Worth. While it may not be considered on the list of Historic Texas Dance Halls because it was not originally a dance hall, the building was actually built back in 1910.
The original building was first a barn and is still located in the Historical Stockyards of Fort Worth, TX. The building housed several other companies and purposes throughout the years before it finally became Billy Bob's in 1981. Billy Bob's is considered a Texas Tradition
Billy Bob's Texas opened April 1, 1981, with national attention featuring with it's 100,000 square feet entertainment center, more than 30 bar stations, country music's biggest stars, real Pro Bull Riding, and a Texas-size dance floor. It became known as "The World's Largest Honky Tonk", where more than 6,000 fun-loving folks of all ages could enjoy entertainment every day and night. For almost 40 years, Billy Bob's has hosted the biggest stars in country music and classic rock from Alabama to ZZ Top. Billy Bob's has been named "Country Music Club of the Year" 12 times by the Academy of Country Music and the Country Music Association.

https://billybobstexas.com/about
Keeping Texas Dance Hall Tradition Alive
The old original Texas Dance Halls are amazing, they are part of Texas history and culture. To many of us Texans, it is sad to see that part of our history fading. But as with most everything as time goes on we tend to progress and even old buildings are sometimes forced to update.
So, in conclusion, I must add that I am happy to say that a new dance hall has opened up its doors during this past year. And it's not very far from where I live!
The 5J Dance Hall is a new venue that is bringing back the idea of Texas Dance Halls. On their website the establishment is described as follows:
reinvented establishment with a dedication to tradition, a flare for nostalgia, and an unsurpassed love of country music. The 5J's over 2000 sq ft original hard wood dance floor, combined with true country music, a full service bar, and a generous helping of southern hospitality

https://www.5jdancehall.com/about-us
I plan on visiting them real soon, and this just may become my new favorite Texas Dance Hall.
Please leave me a comment with your thoughts or experiences of Texas Dance Halls.
Subscribe to my blog or email list and keep up with my posts!
Until next time,
Sharon