When struggling with bloggers block and don't know what to write about, I try different ways to overcome the "block". That's what I am writing about in this post.
Suffering from a writer's block can be difficult for any type of author, but as a blogger, I find it especially difficult when I can't even come up with a good topic!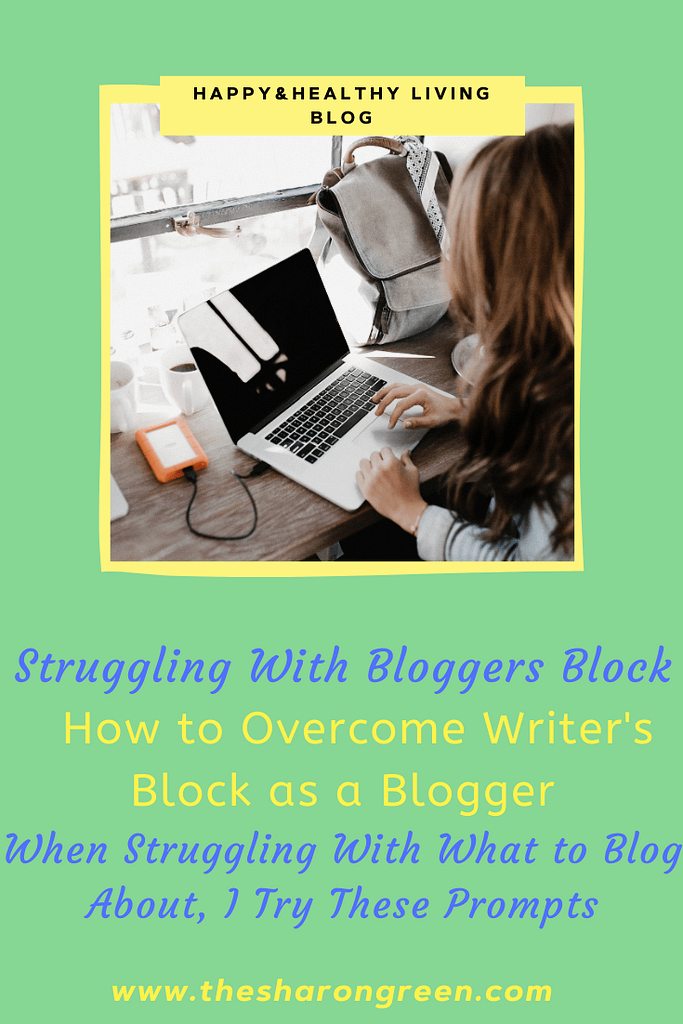 ***Disclosure -Some links in this post may contain
affiliate links and I may receive a small commission
(at no extra cost to you)if you make a purchase after
clicking on a link. To view full disclosure click the
Privacy/Policy tab at the top of the page. ***
Struggling With Bloggers Block
I first started this blog over a year ago and as I started blogging about my personal and professional experience I seemed to easily find many topics to write about daily.
However, recently and especially since the start of COVID and all the social distancing and isolation, I have experienced the true struggle with blogger's block!
Writer's block for a blogger can be disastrous! As a blogger, one needs to continually produce new and quality content in a consistent manner.
But that can become very difficult when a blogger can't even come up with a great topic!
What Causes Bloggers Block
First let's look at some of the common causes of blogger's block. Why do bloggers (or any author) struggle with a "block". With "block" meaning not being able to write anything good!
Here's a list of some of the things that seem to block my writing and cause words to feel so elusive sometimes:
Feeling pressured to create content consistently
Bad timing- just not a good time when I try to write
Bad mood- perhaps I'm in a bad mood when I'm trying to write
Overwhelmed- either with life in general or with the blog
Trying to be perfect- wanting every word to be perfect can defeat me
SEO- sometimes I worry too much about SEO instead of letting the words flow first, then editing later
Overthinking- again I should just write my thoughts, then edit later
Anxiety or getting easily distracted
How to Deal with what's causing my Bloggers Block
Of course, at first I have to try and determine which (if any) of the above causes is actually making me unable to write.
I know that for me personally the best time to write or make a blog post is early in the morning. I try to stay with a routine.
Normally I wake up very early (before 5am), so after my morning hygiene and personal care, I sit down with my coffee, relax and try to clear my thoughts.
This time is also when I spend time reading in my Bible and praying. I have a strong belief in God and need to start my morning talking/praying with Him.
During my morning talks with God over the past several months I have come to feel differently about my blog and what I write. That's what I'm going to discuss more in this post.
Topics and Content of Blog
When I started my blog I knew I wanted to write about topics that were not only interesting to readers, but that might possibly help someone.
My blog is mainly about general health and mental health issues that I have knowledge and experiences with. Either through my career as a nurse or my own personal health issues.
I have tried to always refrain from discussing politics or too much of my religious beliefs on my blog. Simply because I felt with those being my "own beliefs and opinions" and not simply facts that would resonate with every single reader.
However, in the last few months I honestly felt like I was "beating a dead horse" with each of my topics. It seemed like I had already "done that" or offered plenty of knowledge and experiences on most of the relevant health topics.
Offering New Topics
Since I personally felt that God had lead me to start my blog, I turned to praying about my topics and my new found struggle with bloggers block.
During my morning talks/prayers with God I continue to get the same feelings and thoughts about my blog and my topics.
I still will refuse to talk about politics here, for my own sanity and yours!
But as a Christian, I can no longer refrain from or silence my need to talk about my belief in God.
Although, I can promise not to use my blog as a way to "preach" at anyone, I will blog about what I feel God is putting on my heart and in my mind to say to any of my readers.
My Beliefs
As a nurse, I have over 30 years of medical knowledge and experiences with many diseases/conditions. I still believe I have a lot to offer through my blog on those topics.
With a lot of personal experiences with my own health and conditions I can still offer more in that way.
However, as a disabled 59-year-old woman who has suffered 5 heart attacks, I now have 7 coronary stents in place, have suffered from a major stroke and I have liver damage and renal failure along with Diabetes, I feel that I am still here only by the grace of God.
Even my cardiologist has said that medically speaking I never should have survived the first massive heart attack, but I'm still here!
That fact alone, plus many other personal beliefs, proves to ME that there is a God in heaven and He has a specific plan for me. I also feel God's plan for me includes my blog and what I blog about.
More About Bloggers Block
Now that I have explained my personal struggle with bloggers block and how I started to overcome it, let's get back to the main topic of this post.
Here are a few things that can help bloggers who are struggling with blogger's block:
The main hurdle of overcoming a block, in my opinion, is finding a good topic. While struggling with a block, you need to decide what to write before you can get started.
I feel that blogger's block is different than just writer's block in such as the blogger writes many different posts on certain topics instead of writing a book or continuing storyline.
Sometimes it becomes a bit difficult to come up with new ideas, topics, and content without being redundant and boring.
How To Decide On A Good Idea
How do bloggers come up with relevant, interesting, and fresh ideas for our blogs? I normally get my ideas from conversation with my daughter and/or friends. Along with doing keyword searches and simply things I'm dealing with in my life.
During COVID and when all the social distancing began earlier this year, it became more difficult to meet friends for lunch, dinner, or drinks. Even when we do get together our discussions mainly focus on COVID and how it's affecting our lives at the moment. Again, been there done that in several posts.
So I recently discovered that Hubspot has a great idea generator bloggers can use! Don't know how I have blogged for over a year without finding this sooner!
You can use their Idea Generator online by clicking here. Blog Post Generator
Start Writing Again!
Once you have relaxed, cleared your mind of distractions and decide on a great idea for your next post, you then need to come up with a catchy title and awesome content.
Most of the content will come from you and your thoughts along with research on the topic if needed.
But once you have decided on a topic, you can use this amazing tool on www.portent.com to help generate content and titles. Click this Content Generator for great titles and explore the content for those topics.
Sometimes we can all use a little help from these types of generators to start our creative words flowing again!
Wrap-Up
Bloggers get "bloggers block" just as any writer sometimes get "writer's block".
The best ways to overcome the block is to try and determine what maybe causing you to be unable to write creatively and consistently.
Once you can determine the cause, you then need to focus on eliminating that factor.
For me, because of my firm beliefs in God, I feel that I have suffered with my recent block mainly because I was trying to force topics to come to me. When actually I just needed to continue praying and listening to God for my direction.
Once I sat still and silent while waiting for God's answers, more topics started flowing through my mind again.
If you are struggling with bloggers block, I hope you have found this post to be helpful.
Try the links for the generators, it can really help to unlock new ideas in your mind for blog posts!
As always, thank you for reading my post! Leave me a comment to let me know your own thoughts and ways to overcome bloggers block!

Matthew 10:17-20
"Don't be naive. Some people will impugn your motives, others will smear your reputation—just because you believe in me. Don't be upset when they haul you before the civil authorities. Without knowing it, they've done you—and me—a favor, given you a platform for preaching the kingdom news! And don't worry about what you'll say or how you'll say it. The right words will be there; the Spirit of your Father will supply the words."
Until next time,
Sharon