This post will discuss tips for using social media to promote your blog, and will also point out the importance of using social media as a blogger.
It is not enough to just write a blog post and publish it. You must also promote it, and get it in front of potential readers. You have to work at getting your blog noticed, especially until readers start trusting your words, posts and insights.
Let's look at the importance of doing this, and how to use social media for this purpose.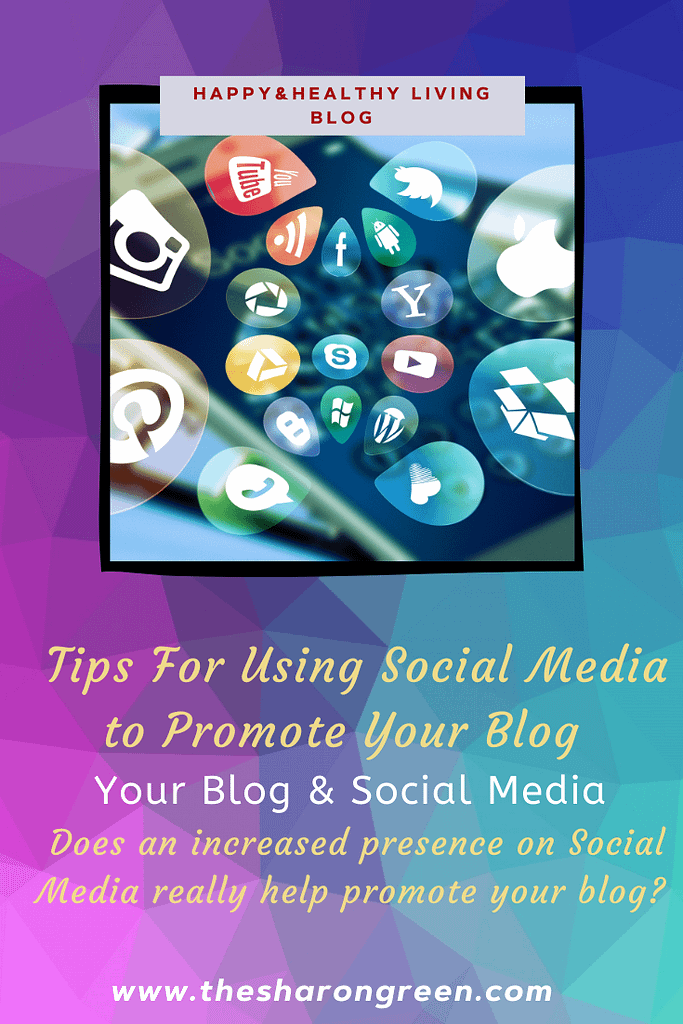 ***Disclosure -Some links in this post may contain
affiliate links and I may receive a small commission
(at no extra cost to you)if you make a purchase after
clicking on a link. To view full disclosure click the
Privacy/Policy tab at the top of the page. ***
Importance of Using Social Media to Promote Your Blog
The key to writing a good blog is the content. You must have quality content, relevant to your target audience.
Also, you must consistently create quality content in order to get (and keep) readers of your blog.
Although these things are a "must" for a good blog, it isn't enough to just to write and create those awesome blog posts.
You must also promote your blog and get it noticed by others to read.
So how do you promote your blog? Well, along with also having good SEO, you must get your posts/blog noticed by people that read blogs.
That is where it becomes important to use social media. The growth of your blog followers will come from sharing your posts on social media!
How Does Using Social Media Help Promote Your Blog?
As you create a presence on any of your social media platforms, you gain friends and followers. Through social media, you also make connections with like-minded people.
Therefore, when you share the link to your blog posts on your social media platforms, your followers and connections see your post.
The "like-minded" friends and connections will click on your post and read your blog. Hopefully they find quality, relevant content on your blog and will then continue reading and subscribe to your blog.
If your content is really amazing, most times your connections will then also share your post. Giving you even more exposure and readers.
Social Media Platforms That Help Your Blog
In my opinion, Pinterest is the number one social media platform that helps promote your blog.
Pinterest is like a huge search engine with pictures. You can search for anything; a topic, recipe, quote, DIY projects, places to travel and much, much more.
When you create a blog post, you need a great image that fits the size of a "pinterest graphic" and insert it into your blog post. You then share it on your pinterest. As long as you use good titles, descriptions and hashtags with it, you will get a lot of views, click throughs and repins on Pinterest.
Using Other Social Medias to Promote Your Blog
Facebook and Twitter are both very helpful social media platforms to use for promoting your blog.
You can also join blogger groups on these medias. It is very helpful to engage, connect and interact with other bloggers.
There are many other sources that are helpful in promoting your blog such as Bloglovin, MeWe, Linkedin, and Instagram.
All these sources help to promote your blog by getting your link and your content out in front of potential readers.
My Newest Adventure
It has recently come to my attention that YouTube is also very helpful with promoting your blog.
I personally promote my blog on all the above mentioned platforms, but until just last month, I had never considered YouTube.
So after a lot of research (and arguing with myself) I have decided to come out of my own comfort zone. I have now created my own YouTube channel.
My reasons for expanding my networks onto YouTube:
First and mostly, to help promote and spread my blog further
to start a VLOG, I like the thought of creating a video journal of important things in my life. (my grandkids might appreciate it one day)
To expand further on topics that I write about on my blog
To show my blog audience another side to me other than what's on my blog
I hopefully can add some joy, encouragement, happiness and laughter to other people's lives.
So with those main reasons in mind, I've set off on my new adventure. I'm very nervous in front of a camera. I don't enjoy hearing myself talk. When I'm nervous I sometimes get very goofy.
I'm learning to let it all go and video myself a lot, in hopes of getting a little that I can actually use. I love being able to edit and censor my own videos before publishing them!
Here's my first lesson in "What NOT to do when making a YouTube video". Hopefully I get a lot better at filming myself real quick! Enjoy the laughs:
Wrap-Up
When wanting to promote your blog, it doesn't really matter which social media platforms you use or how many of them you use.
Remember, first and foremost, you must create good quality content. Then promote it!
Stay consistent and remain present on your social media platforms daily. Interact with your followers and connections.
Lastly, don't be afraid to try new things!!! So please, check out my youtube channel. Like, Subscribe, and ring the bell on my channel so you will get notifications of any new videos that I post!!
Leave a comment here to let me know which platforms you use and what do you think of using YouTube as a way to promote your blog? I treasure y'alls opinions!
Until next time,
Sharon