Saturday Spotlight Series- Episode 6 with Esme Salon. This week's spotlight features Esme' from the Esme Salon blog! I'm thrilled to showcase this blog!
Each of the bloggers that I highlight in this series has a lot to offer to readers. I enjoy highlighting them here on my own blog as a way to give my own readers helpful advice and content that you may be looking for!
Let's get started with this week's spotlight as I shine it onto Esme' of the Esme' Salon blog!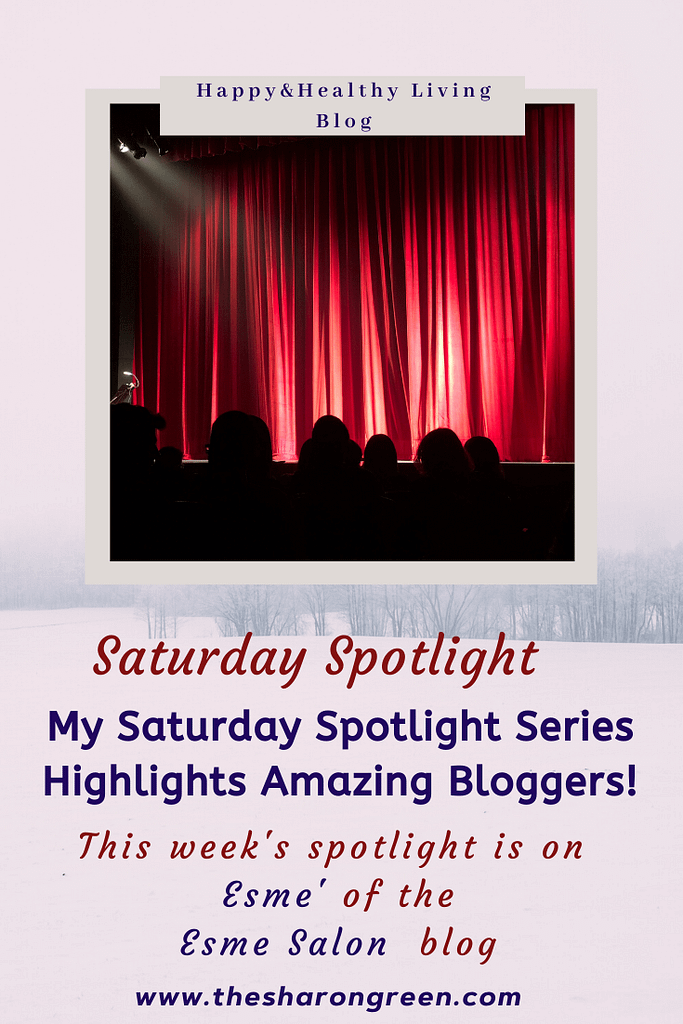 ***Disclosure -Some links in this post may contain
affiliate links and I may receive a small commission
(at no extra cost to you)if you make a purchase after
clicking on a link. To view full disclosure click the
Privacy/Policy tab at the top of the page. ***
My Saturday Spotlight Series
This Saturday Spotlight Series is my way of bringing more amazing blogs and the creators behind them to the attention of my readers!
The blogging community as a whole is a very caring, generous, and helpful community. We ban together in online groups to help and encourage each other.
My spotlight series is just one of the ways that I use to help give back to the blogging community while offering support and encouragement to fellow bloggers.
This Week's Saturday Spotlight
Supporting Esme' and her blog this week is very exciting to me because, first of all she greatly deserves it! But more so because she is such an awesome giver of encouragement and inspiration!
Esme' uses her blog to help other bloggers to promote their own blogs through hers!!! How amazing is that?
As with my other spotlights, first I will tell you about why I like her blog, then we will hear from Esme' in her own words in answers to the questions I asked her.

Why I Read Esme' Salon's Blog
Recipes!!! First of I went to this blog for great recipes! I found a beautiful blog that was pleasing to the eye, catching my attention and very well laid out. It was easy to navigate and find what I was looking for. Soon I found other helpful topics there as well. I continued exploring and kept going back!
What I Get From Esme's Blog
Again, I get great recipes! I can get hungry just thinking about some of those wonderful, mouth watering recipes!
I also find awesome threads to share and promote blog posts. She has links to social groups and ways to connect with other bloggers. This part is beyond awesome for those of us who blog and for those thinking about starting a blog! Great tools and information can be found on her site!
Why I Recommend Esme' Salon Blog
As I've mentioned Esme' Salon's blog is a wonderful place to find information and connections for bloggers or those wanting to start a blog.
Also you will find tons of inspiration and encouragement with Esme'. And have I mentioned the recipes? 🙂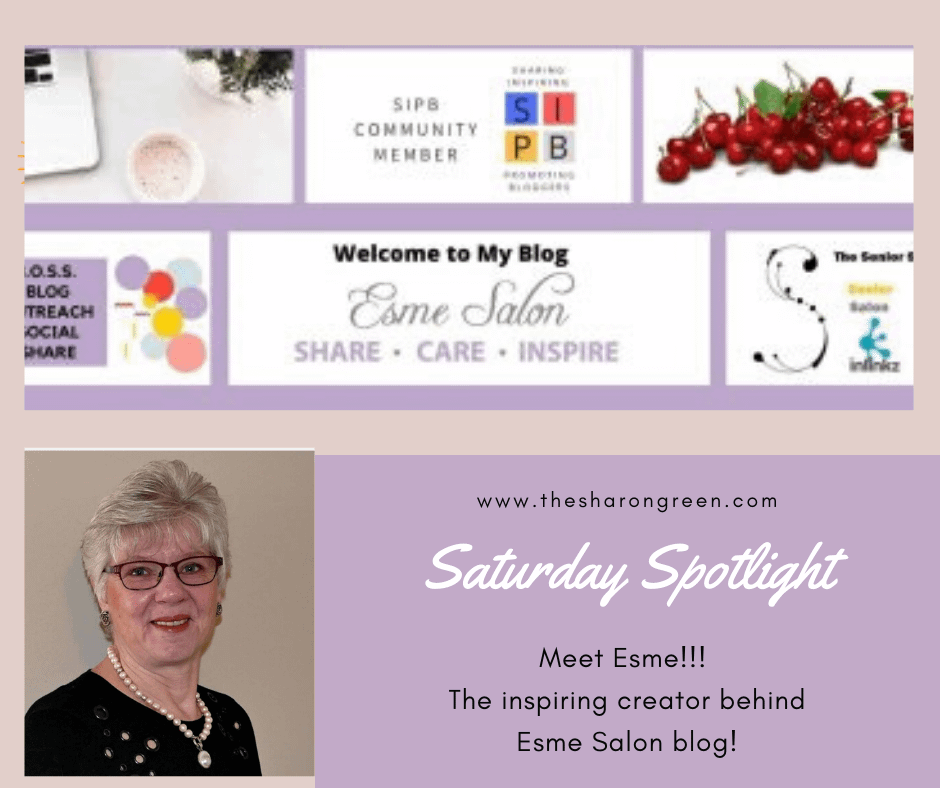 Introducing Esme' Salon
Now let's meet Esme' personally! I asked Esme' several questions about herself and her blog. Below I will show the questions that I asked, and copy her answers in her own words for you.
Q: Tell Us About Yourself:
Esme': "Off the bat, I wish to thank Sharon for this opportunity to share a little bit about myself and my blog Esme Salon."
"We are originally from South Africa and now in Vancouver, BC, Canada for the past close to 25 years, and this is home now.  I am 60++ and still working full time and blog on the side, as and when time permits.  We have a daughter and son (now adults) and they fled the coop and now have their own families, and I am a proud grandma to a pigeon pair 4 lively grandkids, ranging from 5 to 15 years of age.  As I mentioned, I still work full time, and with some rather long hours, but that's not part of this story.  I love my work but blogging is awesome as I can connect with likeminded people and as in introvert this gives me the incredible opportunity to connect with the outside world and get to know many other super talented bloggers and people around the globe which I am proud to call my virtual blogging friends"
Q: Tell Us About Your Blog:
Esme': "Instead of repeating myself, I ask that you read my About page for the full story."
Sharon: Y'all please take the time to go read her about page!! I cannot explain it better than she can!!! 🙂
Q: WHY DID YOU START AND/OR CONTINUE TO BLOG?
Esme': "As you would have read in my About page, I love to be in the kitchen, to cook and bake, so I wanted an electronic copy of those recipes, as I could never find any recipe or note I made amongst all those 100's or maybe 1000's pieces of odd paper I originally scribbled them on.  I originally scanned it and then just kept it on a 'secret' blog and then one day I spoke to some friends and again they asked for some of my recipes and without thinking I just opened up my 'secret' blog and that was the end of that 'secret' blog, and then they implored me to share it with them.  I created a recipe album for our daughter as a gift when she got engaged and collected recipes from all her friends and our family and then typed it out and laminated it as a gift and she still has it.  So with all those recipes and what I gathered over the years, The Recipe Hunter was born.  I decided to branch out and added some other features to the blog and then rebranded so now we have Esme Salon."
Q: WHO OR WHAT INSPIRES YOU?
Esme: "I love to connect with my fellow virtual friends and read and share their stories so I have a weekly linkup SeniorSalon and wish to invite young and old to come and join.  Do not let the name deceive you.  I inherited this feature from a fellow blogger thus the name carried over.  She ran the SeniorSalon for a number of years but eventually decided that she wanted to go in a different direction, so I took it over and now feature this on a weekly basis where you can share your blog links and meet other bloggers, read their posts and share it on your own social media and vice versa."
"Earlier this year I also started a new feature called B.O.S.S."
"You may wonder why we used the term: B.O.S.S.? BLOG OUTREACH SOCIAL SHARE but you're the BOSS of your own blog."
Esme's Bio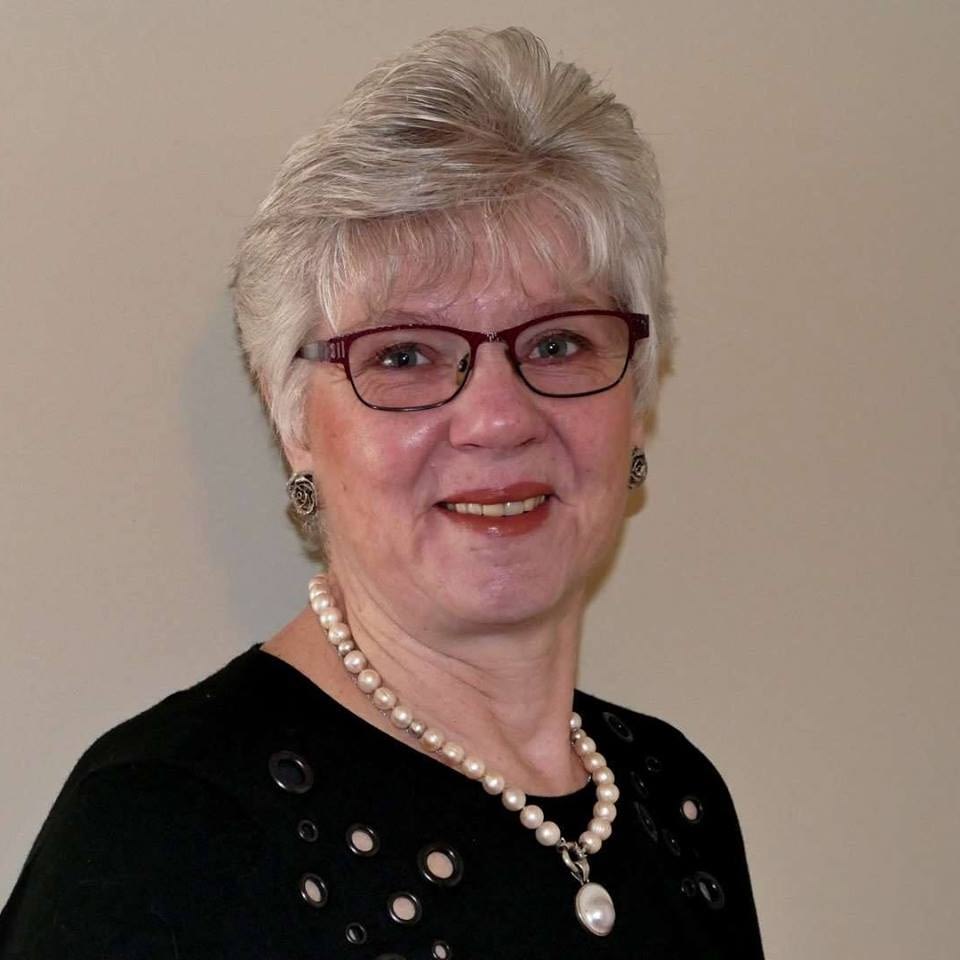 Esme Invites You to Come Join The Inspiration!
Esme' says: "Feel free to pop over and read all about it .  I would love it if you wish to sign up to my blog, then you will receive an email for B.O.S.S (we try to do this as least once in two weeks) as well as SeniorSalon (weekly) as a reminder to come and participate."
I would like to also encourage you to check out this post! Roundup Senisal Mar 16-20 .
Senior Salon is a weekly Link Up Party starting each Monday at 2 am PST through to Friday evening at 8 pm PST with a roundup post at 9 pm PST.
Be sure and check out the Guest Post and Blogger Interview sections also!!
Wrap-Up
Check out Esme Salon! Explore her website, make the connections and get inspired!
Leave me a comment to let me know what you think! I'd love to hear from you and know if you enjoy the spotlight series!
Don't forget to subscribe to my newsletter to get a free download and never miss a post!!
Until next time,
Sharon