Saturday Spotlight Series continues! This week is Episode 5 with Aniysa Raiford of the Faith, Life, Family blog!
I'm excited to continue this series as a way to introduce my readers to more amazing bloggers!
So let's meet Aniysa and check out her blog!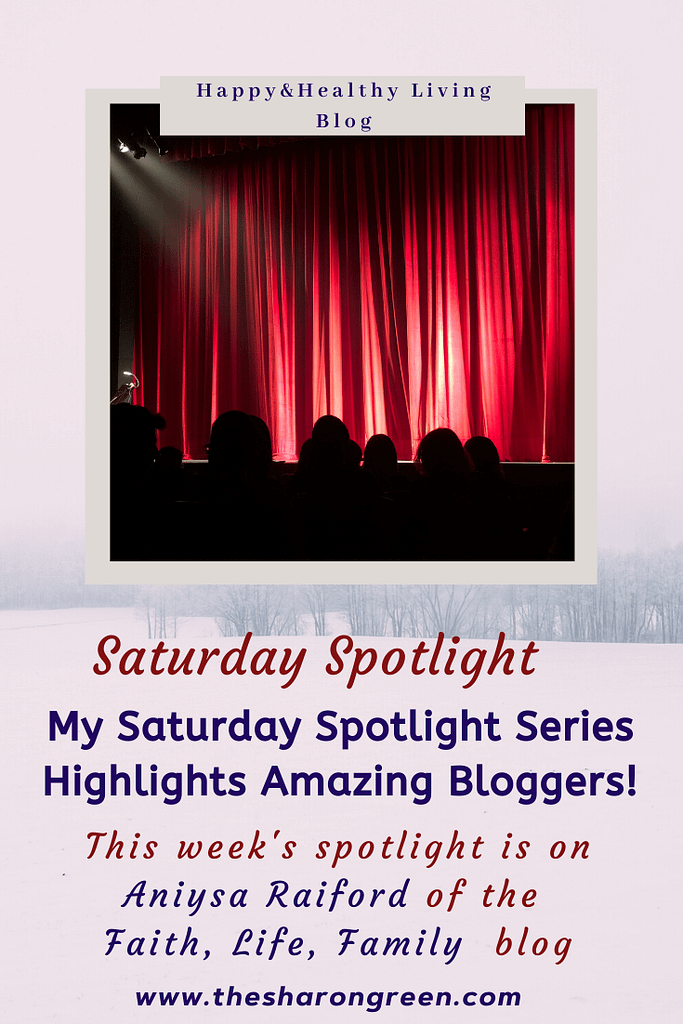 ***Disclosure -Some links in this post may contain
affiliate links and I may receive a small commission
(at no extra cost to you)if you make a purchase after
clicking on a link. To view full disclosure click the
Privacy/Policy tab at the top of the page. ***
My Saturday Spotlight Series
I truly enjoy doing this Saturday Spotlight Series as a way to introduce more amazing bloggers to my readers. I love reading the works of other bloggers and like spotlighting their blogs here on my blog as well.
It is my way of helping other bloggers and my readers! I recommend bloggers who deserve it, and it helps give my readers a variety of helpful tips, advice and great blogs to read!
This Week's Saturday Spotlight
This week's Spotlight shines on Aniysa Raiford! I met Aniysa through the blogging community and I dearly LOVE her blog!
I find her blog very inspiring and helpful to me personally. First I want to tell you how and why I love her blog, then we will meet Aniysa personally.

Why I read Aniysa's blog
As I've already mentioned, I find Aniysa's blog helpful and inspiring. But even more than that, I read it because I simply love her personal touch and her style of writing! Pure and straight from the heart! She touches me where it matters.
What I Get From Aniysa's blog
Inspiration! I know, I'm repeating myself, but this blog is filled with total inspiration! And who doesn't need inspiration, even on a daily basis? I know I do!
Aniysa helps me find hope when I feel that I've lost all hope. She helps me seek peace and sometimes find solutions when I thought there were none. She helps me remember I'm not alone. I'm not the only one that has the same problems.
Why I Recommend Aniysa's Blog
I strongly recommend Aniysa's blog because we all need some encouragement these days. We all need inspiration and perhaps you can also find answers to some of your questions on her blog.
Ok, I admit I agree with Aniysa's faith and her opinions, and some of you may not. Still, I encourage you to read some of her posts, even her Faith posts. You may actually discover something you didn't even know was missing in your life. 🙂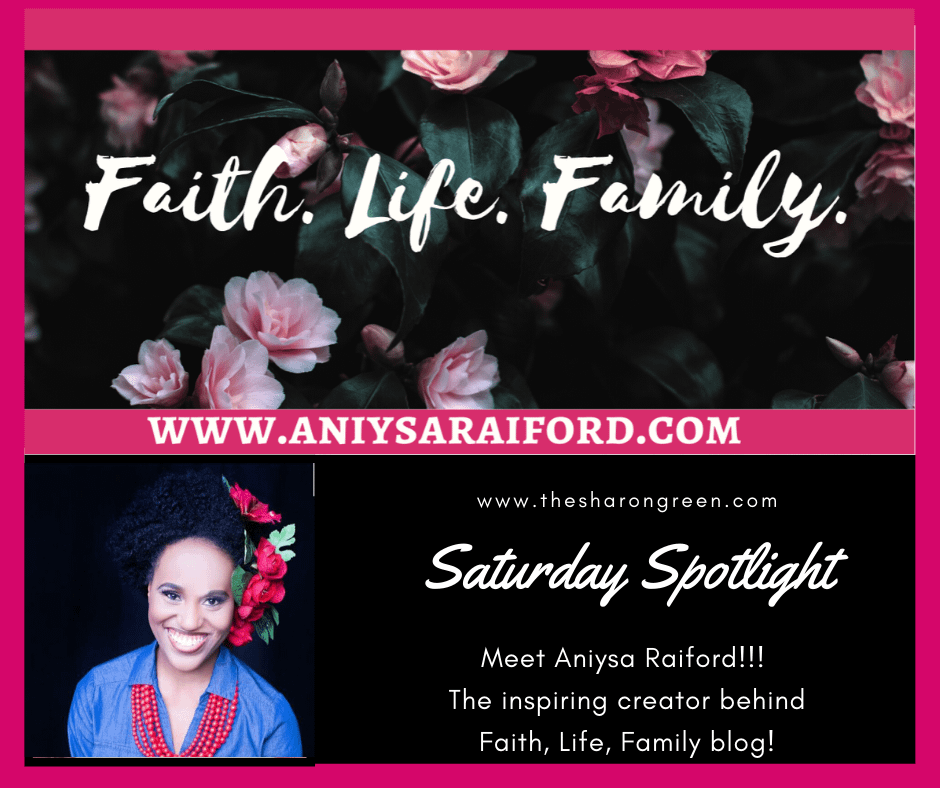 Introducing Aniysa Raiford
Now let's meet Aniysa personally! I asked Aniysa several questions about herself and her blog. Below I will show the questions that I asked, and copy her answers in her own words for you.
Q: Tell Us About Yourself:
Aniysa: "My name is Aniysa Raiford. I'm a new blogger and I love to write! Originally, I'm from New York but some would call me a southerner by heart. I'm a Case Manager working with families of adults and children with disabilities and take pride in my job! I love helping others. When you can't find me helping, I'm reading, binging YouTube (my guilty pleasure), or hanging out with family and friends."
"I have a loving immediate family of my Mom and Brother, and I'm a proud sister advocate of a sibling with Autism. My passions include volunteering and raising awareness about Autism Spectrum Disorder, Vitiligo, (a skin condition) that affects a lot of people around the world, including myself, and also encouraging other young women."
Q: TELL US ABOUT YOUR BLOG, NICHE, TOPICS
Aniysa: "My blog is centered around three themes: family, faith, and life. These topics are very near and dear to my heart because they are what makes me. My life encompasses all of these things, and it's my life purpose to pour my heart into what God has chosen me to write about. My blog includes faith topics that are challenging, and also helpful when navigating this Christian life. I also offer help with faith-inspired messages and advice, from personal experience. The life featured on the blog is about dealing with life in your adulthood and trying to navigate this world, by being your true authentic self, and all that entails. This blog helps inspire with how-to advice and just daily takes on a variety of issues that people may encounter in life. Family topics focused on the blog are that of many relationships that I've encountered whether romantic or platonic and also deal with family issues as well."
Q: WHY DID YOU START AND/OR CONTINUE TO BLOG?
Aniysa: "I started writing my blog because I wanted to come out of the shadows of who I was. I wanted to break out of my shell and inspire other people. I wanted to give a voice to the voiceless and encourage other people through my writing. This blog is a means to inform, and inspire the masses to live life authentically, keep the faith, and learn how to deal with relationships along the way!"
Q: WHO OR WHAT INSPIRES YOU?
Aniysa: "My mom and my brother inspired me a lot! They are the reason why I still fight every day to love others and show love to others because they continue to live life every day stronger. I'm also inspired by Kerry Washington and Michelle Obama. These two women have inspired me so much, to know that my dreams are possible to reach and that it's okay to be smart, passionate, and endearing women in today's world."
Aniysa's Bio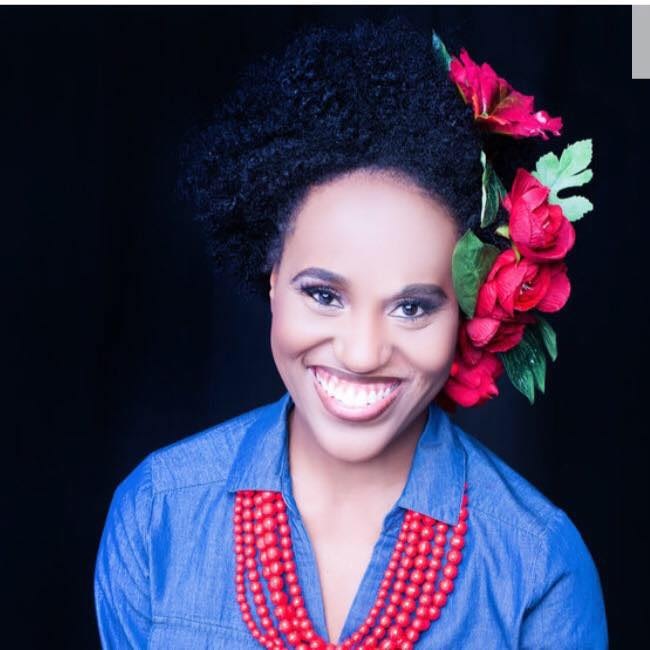 Wrap-Up
There you have it! An introduction to another amazing blog and the brilliant creator behind it!
I hope you have enjoyed meeting and learning about Aniysa and her Faith, Life, Family blog.
Even if you don't take a lot of time exploring her blog, I want to encourage you to please read her great article Is Something Wrong With Me? A real eye-opener!!!
Check Aniysa out! Leave her some comments and share her blog!!
As always, leave me some comments, share this post and subscribe to my newsletter to grab a freebie and never miss a post!!!
Until next time,
Sharon