Saturday Spotlight Series- Episode 4! I'm extremely proud to continue my series and bring to you this week the talented Jen Towkaniuk with Digital She.E.O blog!!
Without further ado, let's get started!!!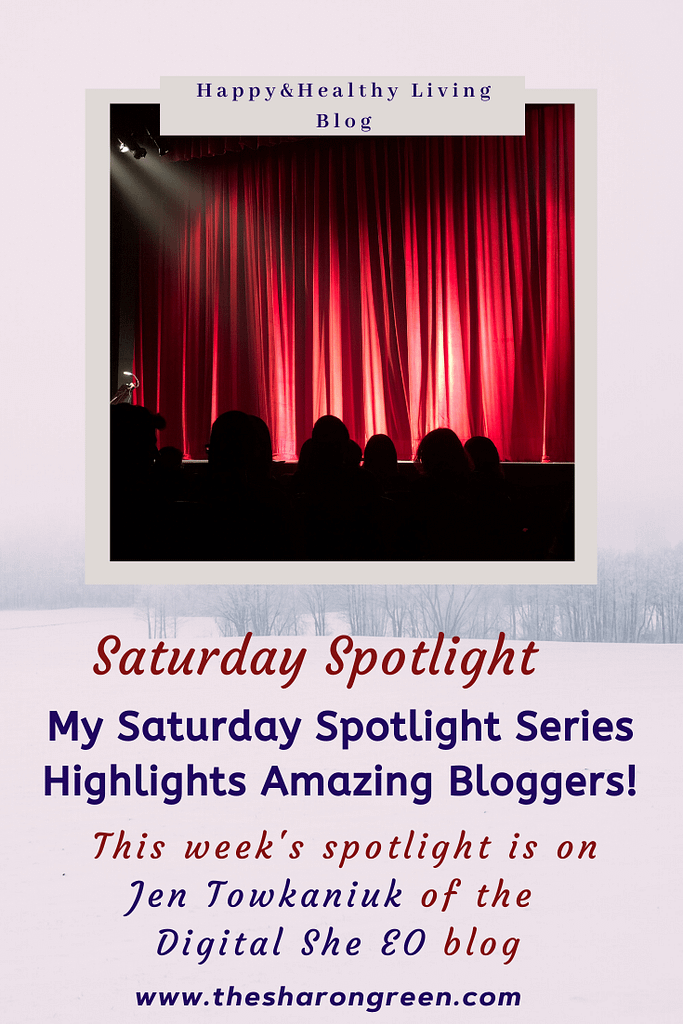 ***Disclosure -Some links in this post may contain
affiliate links and I may receive a small commission
(at no extra cost to you)if you make a purchase after
clicking on a link. To view full disclosure click the
Privacy/Policy tab at the top of the page. ***
My Spotlight Series
I am proud to be able to present these Spotlight Series posts to you (my readers) as a way to expose you to more amazing bloggers! The blogging community is like that 😉 We love helping each other!
As I meet and connect with other bloggers, I enjoy their blogs and want my readers to have the chance to meet them and enjoy their work also! I sincerely hope all of you are enjoying these bloggers and their work as much as I am!
This Week's Spotlight
This week's spotlight is on Jen Towkaniuk, the creative blogger behind the Digital She.E.O blog.
First, let me tell you my opinion of Jen's blog, then we will hear about Jen and her blog in her own words. 🙂
Why I read the Digital She.E.O. blog
Personally I read Jen's blog to get tips for online "branding" for my blog and great S.E.O. information. I was totally new to this kind of stuff when I started blogging, so Jen's goldmine of information was vital to me when I found her blog!
What I Get From Digital She.E.O. blog
What I get from Jen's blog is solid, true to fact information in a form that I can understand and put to use for my blog. It's up to date and very helpful.
Jen's advice and information have helped me to not only brand my blog but to continue to grow it and share it adequately on social media.
I suggest that you read Jen's post about Network Marketing because it explains many misconceptions about the business. A lot of network marketing tools and concepts can be applied to other areas in life, so this is a great article to read!!
Why I recommend Digital She.E.O. blog
I recommend Jen's blog to all of you that are looking for information on starting or growing your blog or online business of any kind.
Jen is passionate about what she does, she cares and is willing to help you anyway she can. Jen always does her research, keeps it fresh and up to date. She presents it in a way you can understand and apply it to YOUR business easily.
Check her out!! You won't be disappointed! Even if you haven't started that business or blog yet, check Jen out, she could possibly answer those difficult questions for you to help you get started!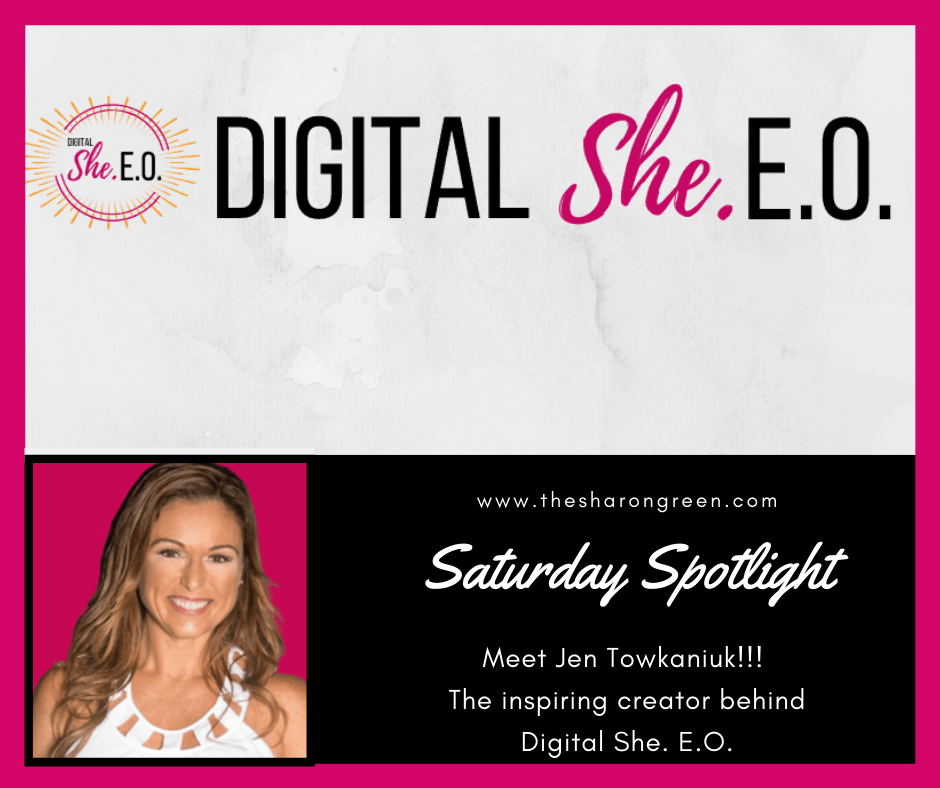 Introducing Jen Towkaniuk!
Now let's hear it from Jen in her own words!! I asked Jen a few questions about herself and her blog. Below I will show the questions as well as her answers in her own words. 🙂
Q: Tell Us About Yourself:
Jen: My name is Jen Towkaniuk, mom to a 19-year-old daughter and a 19-year-old stepson. At 48 years old, it almost sounds crazy that I am just getting into this blogging thing, but here I am.
I have been an entrepreneur my whole life, growing up with a dad who ran his own business and then marrying a man who was a serial entrepreneur. By the age of 39 I had owned 8 different businesses with him and learned numerous skills including epoxy flooring installation, website building and tax accounting.
Then I found myself divorced, bankrupt and unemployed as my ex-husband kept the business while I kept my daughter. I became very close to my trainer who owned the gym I went to. Our kids were the same age and he was a good man. It didn't hurt that I knew how to help run a business and I became part owner of a gym.
Fitness was our life for 10 years. In the middle of that I was introduced to network marketing in the form of a nutritional company. I had never learned about this model of doing business. I immediately fell in love with the word of mouth model of endorsing a product I loved. The low cost of startup, the built-in mentorship and the ability to own a virtual franchise without developing my own products was incredible. I wondered why they didn't teach it in school.
I knew there was some stigma around mlm businesses. But I also knew that network marketing, when done right, was not a pyramid or scam. It was simply another way of getting a great product to market, and there was a lot of money to be made with a really good product.
I was very successful with my network marketing company. I rose to the top 1% of the company within my first 2 years. The problem was that the people I enrolled were not able to find the same success. I took this personally. I felt it was my responsibility to help them.
I did hours and hours of network marketing training looking for the best practices I could teach my team. I learned a lot about the industry. The biggest thing I learned was that I was not responsible for the success or failure of my team.
I plugged in to training and learned the skills. My team would not. I performed the actions to build a business. The people who were failing in my team did not.
Q: Tell Us About Your Blog, Niche, Topics
Jen: Digital She.E.O. offers tips to create a multi-faceted online brand and business. I believe that blogging is an incredible, underutilized tool for network marketers to promote their products and their lifestyle. It also allows them to blend network marketing with other revenue streams including affiliate income and digital product sales.
Q: WHY DID YOU START AND/OR CONTINUE TO BLOG?
Jen: Network marketing is a business just like any other. Only 1 of 10 businesses succeed in traditional business. Why did I think it would be different in network marketing?
I got tired of the BS I kept hearing about network marketing. They say everyone can do it. The thing is, everyone can, but not everyone will.
Instead of holding myself responsible for people who didn't want to build a business, I decided to help the ones who did. I started Digital She.E.O. for women who want to be the CEO of their own virtual franchise. It's for people who want to build a real business.
My goal is to not only help more women make money from home, but also to up-level the profession of network marketing. It's a great business model when it's treated like a business and it's very misunderstood.
Q: WHO OR WHAT INSPIRES YOU?
Jen: I am inspired by women who put in the time and effort to build a business. It's not easy and there is so much pressure to fall into societal norms and get a "real job". Bloggers are some of the most dedicated, creative and supportive people I know and I'm proud to say that I can give back to this community as a whole.
Jen's Bio
Wrap-Up
I sincerely hope that you have enjoyed meeting Jen this week. I also hope you will take the time to check out her blog!
Follow her on social media and read some of her posts! Jen is a true inspiration to women in general. Especially those of us that dream of running our own business. Bloggers and entrepreneurs alike can find genuine helpful information through Jen and her blog!!
Show Jen some love! Leave me a comment to let me know what you think and tell me if you are enjoying this spotlight series!
Also don't forget to sign up for my newsletter!
Until next time,
Sharon