Saturday Spotlight Series – Episode 3 with Lynne Huysamen! I am excited to continue the Saturday Spotlight Series as a way to introduce you, my readers, to some really amazing blogs!
Today I am thrilled to introduce you to Lynne Huysamen and her Kaboutjie blog!!
Let's get to it!!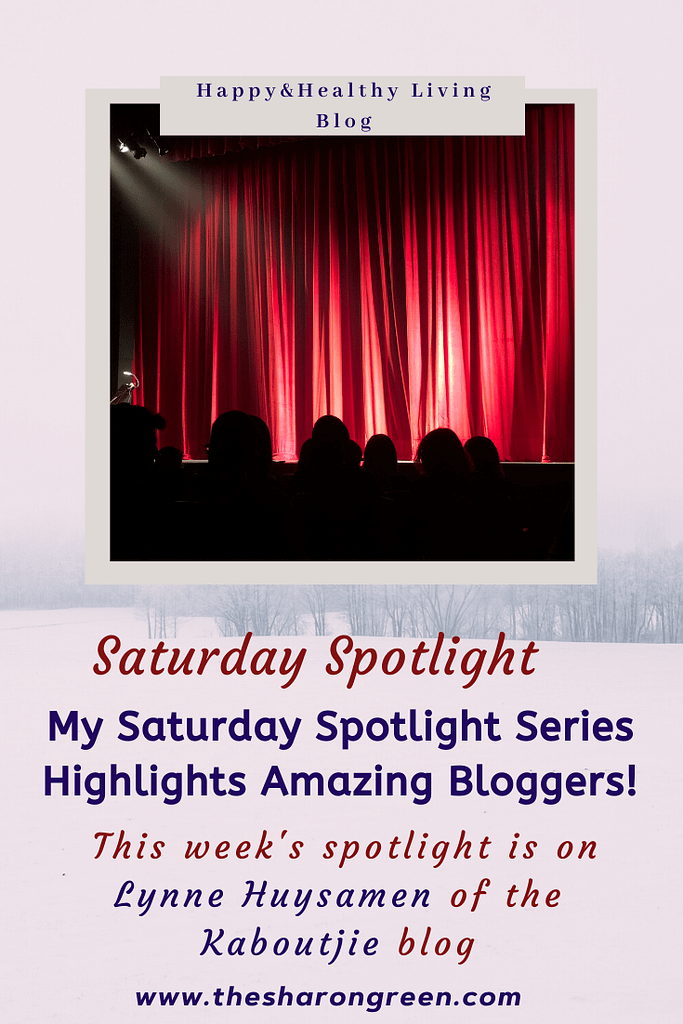 ***Disclosure -Some links in this post may contain
affiliate links and I may receive a small commission
(at no extra cost to you)if you make a purchase after
clicking on a link. To view full disclosure click the
Privacy/Policy tab at the top of the page. ***
Saturday Spotlight Introduction
To begin this week's Spotlight introduction I would like to tell you a little about why I'm excited to introduce the Kaboutjie blog.
Not only is Lynne Huysamen a very creative and brilliant blogger, I simply love her articles and style of writing.
So let me break it down for you and explain why I wanted to share her blog with you today.

Why I read the Kaboutjie blog
The main reason I read the Kaboutjie blog is for the articles! In fact, that is how I become hooked! Lynne writes informative articles with much needed basic life advice.
She writes about topics that so many women have questions about and she gives solid information. Lynne writes with knowledge and passion to not only give you the information you are looking for but with grace and understanding.
What Do I get From Kaboutjie?
Again, not to repeat myself, but I get great information and solid basic life advice! I also get information I know I can trust when I'm doing research on similar topics.
I have even learned a few things that I was unaware of myself! Along with passion and understanding, I also get another person's opinion on many things. I see another person's personal account of struggles that we all (or most) have been through ourselves.
Why I Recommend Kaboutjie to you
As if all the fabulous information, advice, and compassion aren't enough reason to read Kaboutjie? I highly recommend that you check out this blog because Lynne regularly holds great contests and outrageous giveaways!!!
Who doesn't love giveaways? It's always fun to have a chance to win something! Lynne makes it very fun to interact with her through her blog and social media, which I will give links to further down in this post!
Now let's meet Lynne Huysamen and hear in her own words about herself and how Kaboutjie was created!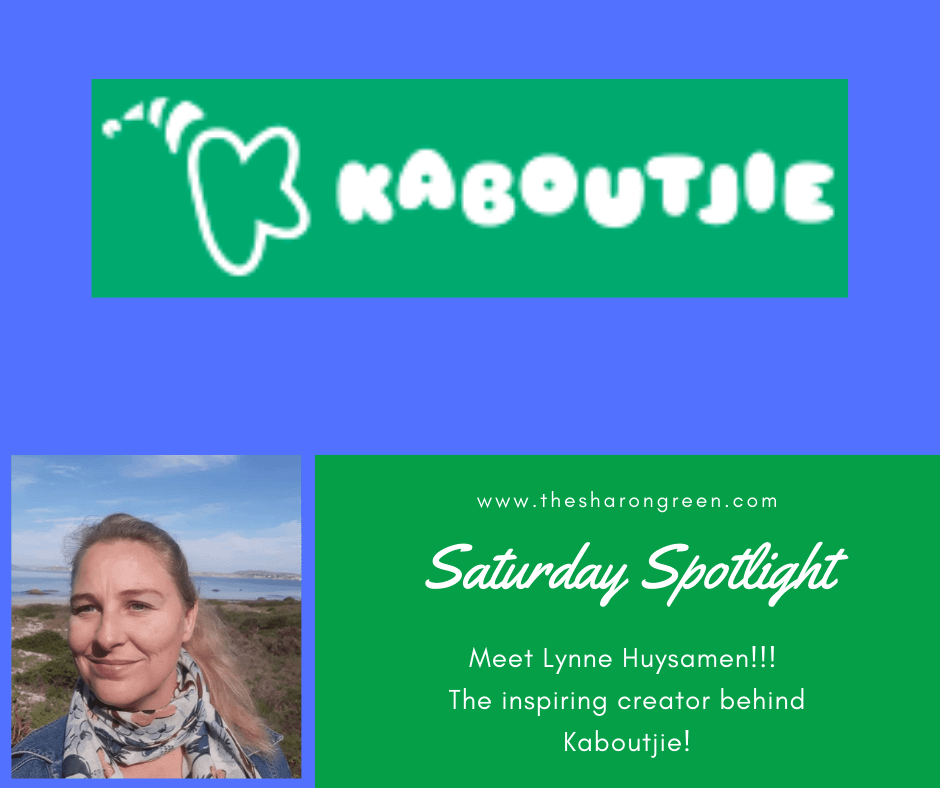 Introducing Lynne Huysamen
As I previously stated, I was first hooked on Kaboutjie after clicking on one of her articles.
The article itself grabbed my attention right away, and I started following her blog immediately. Over time I have learned a lot from Lynne and her blog. I've also learned that she is an amazing woman!
Saturday Spotlight Continues on Lynne Huysamen
Naturally, when I started planning my Saturday Spotlight Series, Lynne was one of the first ladies I instantly wanted to spotlight!
Lynne and her blog have been so inspiring and very insightful for me, so I wanted to share it with my readers. I reached out to Lynne and asked if she'd be interested in allowing me to spotlight her on my blog. I was thrilled when she said yes!!!!
I asked Lynne some questions to help us get to know her and her blog a little better. Below are the questions I asked and the answers she gave, in her own words!
Q: Tell Me About Yourself:
Lynne: ". My name is Lynne Huysamen. I am a married mother of two children, living in South Africa. My passion is blogging and making money online. I also love to get involved with the recovery community online as I am a recovering alcoholic and drug addict – 11+ years in recovery."
Q: Tell Me About Your Blog, Niche, Topics, Etc.
Lynne: "I have a few websites but my focus is my website kaboutjie.com which is a parenting and family blog. I cover a wide range of topics from parenting and family to health, home, garden, and travel."
Q: Why Did You Start and/or Continue to Blog?
Lynne: ". My business Kaboutjie actually started off as an online baby store and I started blogging to get more traffic to my website. I fell in love with blogging and decided to change the focus of my business."
Q: Who or What Inspires You?
Lynne: "My main inspiration comes from my children, both in my personal life and my work. My all-time favorite mother to follow is Kristina Kuzmic – so down to earth and authentic. I love what she has to offer other mothers and how open she is about her struggles. Such an amazing woman."
Lynne's Bio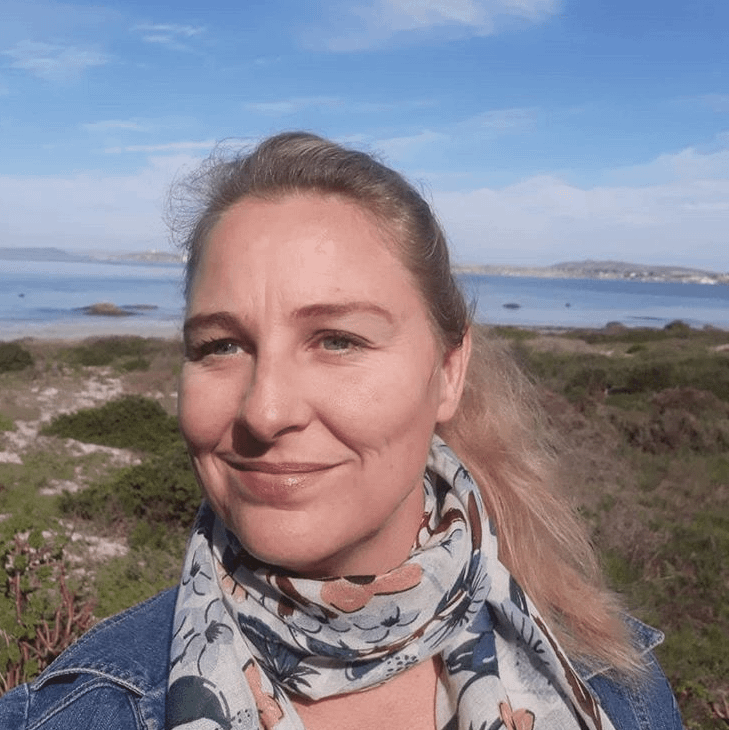 Wrap-Up
For a real sample of just how uniquely Lynne can connect with women, I urge you to take the time to visit her blog. But especially read her article on miscarriage by clicking here!
I sincerely hope you have enjoyed this post and meeting, Lynne. Take time to visit Kaboutjie, I promise you are in for a real treat!!
Share this post and help give Lynne the recognition she deserves! Don't forget to subscribe to my blog so you never miss a new post!!
Until next time,
Sharon