Saturday Spotlight-Episode 2 with Crystal Garman of the Simply Full of Delight blog! My weekly spotlight series continues! This week I am overjoyed to introduce you to Crystal.
This week I will tell you about Crystal and her blog. I will also tell you why I read her blog and some of the things that keep me returning to her blog! 🙂
***Disclosure -Some links in this post may contain
affiliate links and I may receive a small commission
(at no extra cost to you)if you make a purchase after
clicking on a link. To view full disclosure click the
Privacy/Policy tab at the top of the page. ***
Saturday Spotlight Series-Episode 2
As in the introduction, I already stated that this week my spotlight is on Crystal Garman! Crystal is the creator and author behind the Simply Full of Delight blog.
I am in several online groups for bloggers, as most bloggers are, so we can connect, share, and encourage each other. These groups are great communities as well as resources. It was in one of these groups where I first connected with Crystal and visited her blog. As her blog title says, it was full of delight!!
Why I Read Crystal's Blog:
Why do I read Crystal's blog? First of all, I enjoy her style of writing and how she gets her points across. I relate to her thoughts and opinions on so many things.
Her articles are well written and easy to read. They capture my attention and keep it to the end. Crystal talks about kids, faith, and foster care. All are things that touch my heart.
What I Get From Crystal's Blog:
As you read more of this post, and even visit Crystal's blog, you will probably wonder what a 58-year-old woman like myself gets from a mostly parenting blog.
So, let me tell you! It has been 30+ years since I was raising little kids. Times have changed, even if I don't like to admit it. I'm older and slower, so I definitely need new ideas and crafts to keep up with my busy grandkids!!
Crafts, ideas, and parenting tips go a long way to help a slow old Granny keep up! I've discovered that I am no longer smarter than a 4th, 3rd or even Pre-K child on somedays!
Crystals helps a lot in these areas for me, so that's what keeps me returning to her blog regularly!!!

Why I Recommend Crystal's Blog:
I recommend Crystal's blog, not only for all the tips and crafty ideas I get there. But also, Crystal has great ideas for children and baby gifts!
Even as a grandmother, it seems I'm always needing a gift. My friends are always expecting new grandbabies, so Crystal has amazing baby gifts for baby showers. You can find these wonderful items at Crystal's Etsy Shop. You should really check it out!!!
Spotlight Series on Crystal Garman
Now you know what keeps me coming back to Crystal's blog and why I recommend it, so let's find out more about Crystal and why she blogs!
In order to do this, I asked Crystal some questions about herself and about her blog. I will now post those questions and quote her answers for you. 🙂
The Spotlight series continues with Crystal!
When I first connected with Crystal and started visiting her blog, I remember thinking of how adequately she named her blog, Simply Full of Delight.
Not only did I find her blog and articles to be pleasant and joyful, but as I connected with her to do this post, I found that Crystal as a person is a true delight as well. I hope you find the same as you read on to the end.
1. Tell Us A Little About Yourself and Who You Are:
Crystal: "Hi there! I'm Crystal Garman the owner of Simply Full of Delight. I am a stay at home mom to 4 wonderful young kids (2 biological and 2 that we are fostering). I have a background as a teacher, I've been an Etsy shop owner of Baby Delights for 9 years and I started my blog Simply Full of Delight in the fall of 2019."
2. Tell Us About Your Blog, Niche, Topics, Etc.
Crystal: "I love to blog about parenting tips and teaching your child, and it shows, because about 60 percent of my articles are centered around this! The gift guides to promote fellow Etsy shops are my absolute favorite things to write. I love promoting small businesses! Also, growing up with a very frugal family, I have a lot of money saving tips that I share with my readers. They are things that are just second nature to me. However, I've learned over the years, they aren't common knowledge, so I love to share that money saving wisdom. I have a section of my blog dedicated to "funny kid stories" because with 4 kids, life is just plain funny. My husband is gluten free due to Celiac Disease, so often I post gluten free recipes and of course as a mom, I love to share simple and easy recipes. Lastly, as a foster parent, I try to give my readers a glimpse inside of a different world to help bring light to the need for good foster parents."
3. Why Did You Start and/or Continue to Blog?
Crystal: "I started blogging in the fall of 2019. I did a lot of research for several months ahead of time and finally took the plunge and dove into it. I was really nervous at first, but I quickly found my footing and I am loving it. Blogging fulfills my dream to be a writer."
4. Who (or What) Inspires You?
Crystal: "A lot of my articles are inspired by what is going on in my life. Recently, I was trying to teach my son to write his name. He was so reluctant to pick up a pencil by himself that I decided to make the whole experience fun. I came up with a variety of activities to teach him to write. Within a week, he was writing and I knew I had something valuable to share with my readers. Other times, I am inspired by upcoming holidays/seasons/events. But most of the time, my articles come from real life problems."
Crystal's Profile and Links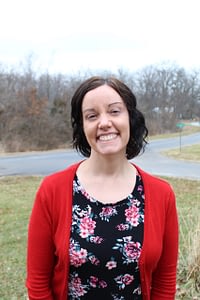 Wrap-Up!
I hope you have found Crystal and her blog as delightful as I have! I have enjoyed introducing her to you, my readers!
Please take the time to visit her blog, leave her some comments and don't forget to stop by her Etsy shop too!!!
Leave me a comment below, let me know what you think!!! I love hearing from you!
Don't forget to subscribe to my newsletter so you don't miss a post!
Until next time,
Sharon