Saturday Spotlight Series-Episode 1 with Denise Gardiner of the Many Facets of Life Blog. I am excited to introduce my new Spotlight Series!
In this weekly Saturday Spotlight I will introduce you to, and highlight different bloggers.
Here I will tell you about amazing blogs that I have discovered and love to read. I will also tell you about the wonderful bloggers behind each blog.
So let's get started with Episode 1 and tell you about this great blog and some of the reasons I enjoy it!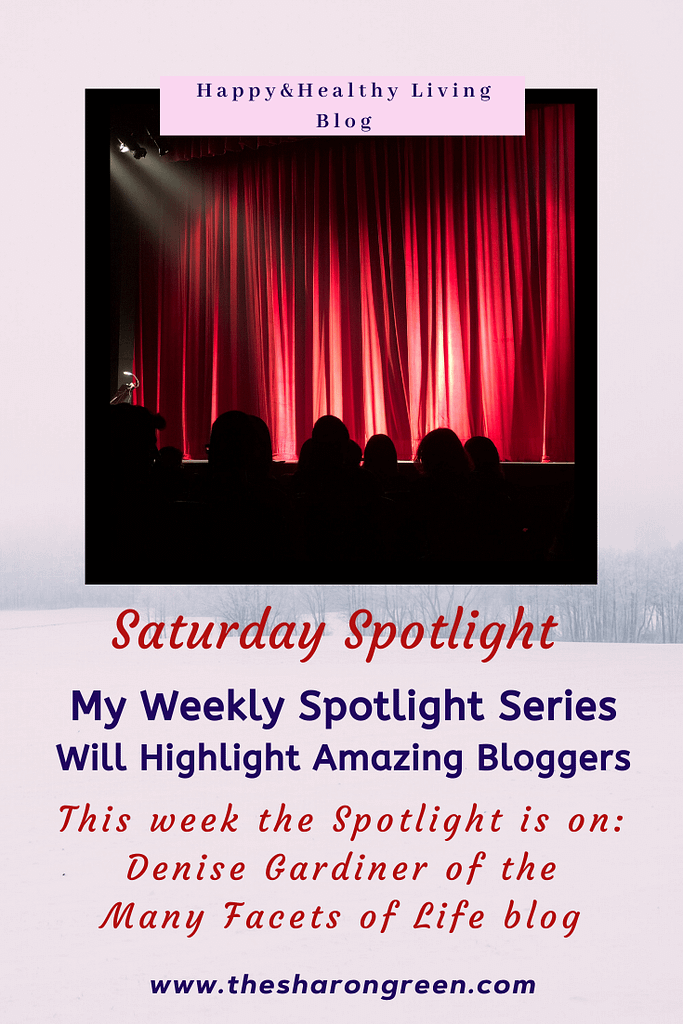 ***Disclosure -Some links in this post may contain
affiliate links and I may receive a small commission
(at no extra cost to you)if you make a purchase after
clicking on a link. To view full disclosure click the
Privacy/Policy tab at the top of the page. ***
Saturday Spotlight-Episode 1
As I already stated, for Episode 1 of my series I am spotlighting Denise Gardiner, the creator and author of the Many Facets of Life blog.
I first connected with Denise through the Facebook group Golden Bloggerz Online Blogging Community. It's an awesome group where a world of bloggers connect and share our blogs.
Denise was one of the first of many bloggers that I connected with and from the minute I first visited her blog I was hooked!
Why I Read Denise's Blog
First I would like to share with you why I read Denise's blog. On Many Facets of Life, Denise shares her life experiences, gives helpful tips, and advice about topics that many of us are interested in and relate to in our daily lives.
Denise writes heartfelt posts with compassion and enthusiasm in well written form that always keeps me coming back for more!
What I get from Denise's Blog
Insightful and informative articles each and every time I visit her blog! That's what I always get from her blog.
But it's even more than that. I get wisdom and character from her words. I enjoy the way Denise relates her thoughts, experiences and knowledge through her blog. After reading one of her posts, I feel as if I just sat down and had a conversation with an old friend.
Why I recommend Denise's Blog
Perhaps I may have already answered this question in the previous two questions!
However, I personally recommend that you check out Many Facets of Life for yourself because you will get solid advice and quality information on everyday life topics.
But you will not just get regurgitated information that you can get for any old Google search, not at all! On Denise's blog you will get her honest opinions from her personal experiences of things we all go through at some point in our lives. I honestly think you will find it refreshing and enjoyable!
Meet Denise Gardiner
Now let's get to know more about Denise as a person! Let's take a look at some interesting facts about Denise, her life and what inspired her to create her magnificent blog.
In order to do this, I asked Denise a few questions and here are the questions along with her answers;
Tell me a little about yourself, and who you are.
Denise: "I grew up in a military family, living in 6 different states plus Germany until my dad retired after over 20 years of service. I am a mom of 3 boys with 3 wonderful granddaughters. I was a Realtor for 15 years, who loved assisting people with their real estate needs and developed many great relationships along the way. I am an animal lover who tries to help abused animals find loving homes."
Tell me a little about your blog, niche, topics, etc.
Denise: "My blog is about different aspects of personal development, such as addictions, life, health and fitness, self-care, relationships, career, Senior life, to name a few. I share my own experiences along with research to possibly help someone else going through a similar experience looking for solutions, hotlines when needed, and links with more info."
Why did you start and/or continue to blog?
Denise: "In the early spring of 2019, I was on Facebook and saw an ad for a course "How To Start A Blog" for FREE.  This is something I had always thought of doing but didn't feel confident in pursuing.  Something in my gut was telling me "Why not, what do you have to lose"?  I found the course so interesting and in the end I had the beginnings of a blog I could launch.  I wrote 20 posts for my launch.  I felt so blessed for the positive response I was receiving, and other bloggers were telling me to keep it up.  I won a contest and was nominated for an award within my first month of blogging.  In December 2019 I retired from my real estate career to become a full-time blogger."
Who (or what) inspires you?
Denise: "People's stories of how they have the courage to rise above tragedy and obstacles that can cross their paths in life and create a positive outcome. People (such as Ellen and Oprah) that have a platform in order to "give back" to communities and others in need, and create a more giving and caring world in doing so."
Denise's Profile and Links
Denise Gardiner
Personal Development Blogger
Many Facets of Life
Denise's Facebook Page
Follow Denise on Instagram
Find Denise on Twitter
Follow Denise's Pinterest Board!
See Denise on her YouTube Channel!




Wrap-Up
I sincerely hope you will take the time to visit Denise's blog. I also hope you find her articles to be as encouraging, uplifting and informative as I do. Denise has helped so many people through her blog and I'm sure you can find helpful posts there as well.
Please take time to connect with Denise, visit her blog, leave her some comments and let her know what you think!!
Now It's Your Turn
Leave me a comment! I love to hear from my readers! Tell me what you think of Denise! And let me know what you think of my new Spotlight Series! You can also share with me some of your favorite blogs that you feel deserve the Spotlight!
Please share this post! Follow me on Bloglovin and Subscribe to my newsletter! You don't want to miss who is on the next Saturday Spotlight!
Until next time,
Sharon