Have you ever wondered how to become a reputable dog breeder? I have, many times over the years.
I love dogs and it seems fairly obvious, especially through social media, that I am not alone on this! Many people love their dogs and pets in general.
So where do people get their dog/pet? A lot of people go to the shelter or rescue for their dogs/pets. I wholeheartedly admire and respect this way of getting your dog. So many dogs/pets need us to rescue them from a hopeless life/situation.
Also, I fully support the spay/neutering of pets. Having a dog/pet is a huge responsibility and when your pet reproduces, that responsibility just multiplied!! Read more about the benefits of spay/neutering your pet at "Don't Litter! Spay and Neuter Your Critter!"
Now, let's get into the real topic of this post, how (and why) to become a reputable dog breeder!
***Disclosure -Some links in this post may contain
affiliate links and I may receive a small commission
(at no extra cost to you)if you make a purchase after
clicking on a link. To view full disclosure click the
Privacy/Policy tab at the top of the page. ***
How/Why To Become A Reputable Dog Breeder
First and foremost you must determine your "why" of wanting to breed your dogs. If you want to start breeding for the money you could make from selling the puppies, then you need to reassess your motives and reasoning.
Simply considering how much dog breeders ask for their puppies and adding the "profit" up in your head will misguide you, and that is where so many people go wrong. That kind of reasoning for breeding is what turns out to make "backyard puppy mills".
To become a reputable dog breeder, your main reason for wanting to breed should center around one specific breed that you love and admire for it's characteristics, qualities and personalities.
With that in mind, you should decide to breed only if you truly want to preserve and better the true bloodlines of that breed.
You must also be ready, willing, and able to provide (afford) the best health care for your dogs. They should still be your pets that you love like family!
Also, you must consider that once your dog has puppies, you are then just as responsible for the life of each puppy as well as the mom and all of your other pets.
Reputable Dog Breeder vs. Puppy Mill
Puppy mills are places where the owner produces as many puppies as possible, as often as possible, with no regard to the health of the parents or puppies they produce.
These places are often overcrowded and unsanitary, with moms and pups kept in cages all of the time.
The females are bred over and over as soon as possible after their previous litter. They are constantly kept and bred in their cages.
Moms and puppies have little, if any veterinary or health care. The owner of a puppy mill only wants as much money as they can get from selling as many pups as possible. A lot of inbreeding goes on in puppy mills.
Puppy mills sell most of their pups to pet stores, so don't be fooled into thinking you are getting a quality pet just because it came from an established pet store.
Dog Breeders Despise Puppy Mills
True, reputable dog breeders absolutely despise puppy mills. So why is this? Aren't breeders producing puppies to sell, same as puppy mills?
NO! Absolutely Not! Yes, reputable dog breeders do bred their dogs to sell puppies, but not just for making money. Truth be told, breeders do not actually profit as much as you would think.
Breeders produce/sell puppies simply for their love of the breed and to give other lovers of that breed a chance to purchase a quality, healthy, and well-socialized pet.
Click here on Breeders vs. Puppy Mills for a more in-depth explanation of breeders and puppy mills and what defines each.
My Experiences with Dog Breeding
During the early 1990's, when my children were young, each of my girls wanted a puppy for Christmas. My oldest daughter wanted a Shih Tzu and my youngest wanted a Chihuahua.
So in 1992, just as I had finished nursing school, I set out on a search for these two puppies. At this time I had no experience or knowledge of breeders vs. puppy mills. I don't remember even knowing there were such things as puppy mills.
I found a lady just 25 miles from my home that had Shih Tzus AND Chihuahuas! Imagine my excitement! I thought I'd hit the jackpot so to speak! One trip and get both puppies at one time!
The lady seemed extremely nice and appeared to be so proud and loving toward her dogs. So I purchased one of each for my two girls' Christmas presents.
My Hard Learned Lesson about Puppy Mills
Little did I know at that time, that I had just purchased two unhealthy and apparently inbred puppies. For $200 each no less!
The nightmare began just a week after Christmas when my 6-year-old daughter's Chihuahua became suddenly ill. We rushed to the vet, where we were told how this puppy was most likely inbred with many health problems. The baby died that day, as the vet could not doing anything for it.
My daughter, Jordan was so upset over losing her puppy, that I immediately set out to find a replacement puppy. This time I was armed with a little more knowledge and advice from my vet.
I had to drive 100 miles one way to get this new puppy. We located the breeder and purchased the new puppy within a week of losing the first one.
The bad experience with the first lady/puppy mill continued when after a year, my oldest daughter's Shih Tzu (Baby Dog) started losing her hair, then began losing her eyesight. Poor thing was a "hot mess", but we loved her and she was our Baby by then.
We dealt with a lot of health problems with Baby Dog, but provided her a safe and loving home with great vet care for six years until she died.
This experience spurred my hatred for puppy mills and my admiration, respect and love of true reputable dog breeders.
My Love of Dogs and Breeders
I want to back up just a little bit here. Even as a child, I also had a dog as I grew up on a farm, and the family always had at least one to four dogs at any given time.
Once I first moved out on my own, I was given a Saint Bernard puppy by my aunt. Major was a wonderful companion and great with my children. I had Major until he died peacefully of old age.
In 1999, about a year after Baby Dog crossed the Rainbow Bridge, I decided I wanted another dog. I remembered Major, and it sparked my desire to get another Saint Bernard.
Living in Texas, I must say that Saint Bernards are somewhat of a rare breed to find. Saint Bernards are inherently prone to do better in colder climates. However, I found a breeder of Saints a little over 200 miles from me. I set out on a day trip with all 3 of my children to visit this kennel. We all feel in love with the kennel and it's owners. We actually came home with a new male puppy AND a year-old female from a different litter than the male puppy.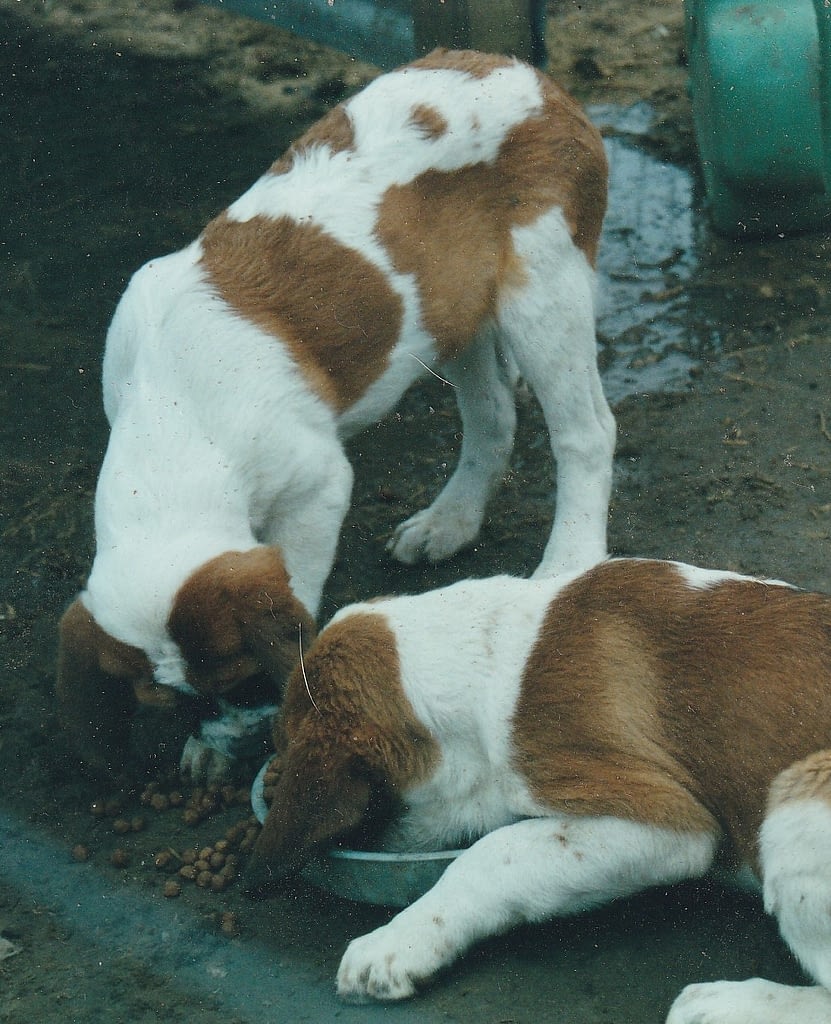 My Experience With Dog Breeding
About a year and half later, we naturally had a new litter of Saint Bernard puppies. We worked diligently to find new loving homes for the puppies. They sold quickly, so was born my Saint Bernard Breeding Kennel.
I was a stay-at-home mom at the time and was devoted to my dogs and their care. I eventually purchased a second female and continued to breed Saints for several years. Until my male died of natural causes, we then just kept the females until they also died of natural causes and old age. I was devastated when I lost my male Saint, then I was returning to work as a nurse and didn't feel I had the time to devote to breeding.
My youngest daughter, Jordan had (and still has) my deep passion for dogs and certain breeds. She was pre to early teens during my time of breeding the Saints. She was my right-hand girl, helping with every bit of the care and even whelping of puppies.
A New Kennel from Start-Up
Now that Jordan is grown with her own home and family, her love of dogs continues. They have one chihuahua that is her son's pet, but probably due to her childhood experience with the Saint Bernards, Jordan has always loved big dogs.
Jordan also has a love and respect for good reputable breeders. She loves any and all dogs, and would bring every stray home with her if possible.
But at the same time, when she is selecting a dog for her, she knows and understands that you can get the best quality and healthiest puppies from a reputable breeder.
Recently Jordan, and her husband, Cody have felt the desire to start their own dog breeding kennel. It has taken them months of research, (even with her previous experiences with breeding) to determine exactly what they wanted to provide and accomplish with their kennel. They started devising a plan and are now putting that well thought out plan in to fruition.
I would now like to introduce Jordan and her newly started kennel. I hope that my readers will enjoy and respect all of this information and continue with me as we watch Jordan's kennel grow!
Introducing Lonestar Bullyz
I have always been completely honest and upfront with my readers. So, again, being totally honest, I personally would not have picked Bulldogs as a breed that I wanted to deal with.
However, Jordan's first experience of owning a pit bull, totally changed her mind about the breed, and I have to admit, I fell in love with Negan myself.
Honestly, again, a couple of her dogs make me a little nervous when I'm there, but Negan never has made me nervous at all. With that being said, I honestly think that pits and bulldogs as a breed get a bum rap, based on hearsay, bad publicity and lack of knowledge. You only here about the bad things that happen involving a pit.
To add a quote about pits, from the show Blue Bloods (I LOVE this show):
Pit Bulls. They're like ex-boxers in a bar. Everyone taunts them and then acts shocked when they punch back. I always think they get a raw deal, plus they're adorable.

Officer Jamie Reagan of TV show Blue Bloods
Again, I have to admit something about myself, and that is that watching Jordan start-up her kennel has sparked an old flame in my heart. I'm so excited for Jordan and it causes me to have that desire to breed dogs again!
So with that idea in the back of my mind, and my enthusiasm over Jordan starting her kennel, I kind of picked her brain. I asked her some questions about her "why" of wanting to start a kennel, and some questions about her research and how she is getting started. That's what I want to share with you now.
The "Why" behind Lonestar Bullyz
My daughter actually has a well thought out "why" or reason for working so hard to start a reputable dog kennel. Below is the answer she gave me when I asked her.
Jordan: "As far as why we breed/started a kennel the most simple answer is because we love the breed and want to better the breed. We have seen a ton of really great breeders out there that truly love this breed but we have also seen a lot of people who are just in it for money. We wanted to put our money where our mouths were and actually contribute to advancing this breed in the world of purebred dogs. I had also had experience from my childhood of participating in a Saint Bernard kennel and I truly love the process of breeding purebred dogs. Plus, who wouldn't want a full-time job that involves loving dogs all day?"
Why American Bullies?
Next I ask her, "why bullies"? What urged her to select American Bullies as the breed she wanted to have as not only pets, but for her breeding kennel?
Jordan: "We chose American Bullies simply because we fell in love with the breed. My husband has been around American Pitbull Terriers and American Bullies for the majority of his life and already loved the dogs. I had only had experience with a few Pitbull mixes and wasn't sold on the idea at first. Then 2 Christmases ago a friend offered me an American Staffordshire Terrier/Pitbull Terrier mix and I got him for Cody as a present. The dog chose me instead and we fell in love with each other. He has been the sweetest companion ever! After that we ended up with a female just like him and they accidentally bred on her first heat at a year old. The puppies were the cutest and most beautiful things I'd ever seen! From there I began researching and learning everything there was to know about pitbulls and American Bullies. The first time I saw a picture of Dax (arguably the most famous Bully in the world) I was stunned, literally speechless. The beauty of a good, correct, American Bully just stopped me in my tracks. I think my jaw literally fell! LOL After that I was pretty much obsessed with the breed."
Jordan's research was extensive and it shows in her knowledge of the breed. She went to on to explain more to me about the breed. This is what she said:
Jordan: ". American Bullies are still a relatively new breed as far as recognized, registered breeds go. The first American Bully was produced in the 1980s by a guy named Dave Wilson. Since then, the goal of every respectable bully enthusiast has been to build on that foundation, keep the good qualities, improve or get rid of the flaws, produce consistency, and gain respect in the dog world."
Our main priority as breeders is, and always will be, the betterment of the breed and the health/safety of our babies. We love these dogs like family and treat them like royalty.

Jordan Moore, co-owner and founder of Lonstar Bullyz
Jordan's View of Dog Breeding
As we went on talking about her and Cody setting up their own dog breeding kennel, she shared the following thoughts, and goals for their kennel.
Jordan: "For me, a reputable breeder has a clear vision of how they want to better the breed and produce good, consistent, healthy dogs that will be show quality and family pets/companions. A reputable breeder should have a plan for how long to breed their dams or sires that keeps the dog's healthy as the first priority, as well as a plan for spaying/neutering retired dogs and rehoming them somewhere where they can be spoiled and pampered for the rest of their lives. Another main point for reputable versus "back yard" breeders is not letting everyone with money in their hand buy one of your puppies. These pups are our responsibility from the time breeding takes place until they cross the rainbow bridge. We have a puppy application process so that we can be assured our pups go to good, safe, loving homes."
"Our dogs don't live in kennels 24/7. They are part of the family. If you see us in public we will most likely be covered in dog hair and we are ok with that!"
Goals at Lonestar Bullyz
As for Jordan's goals and dreams for her new kennel, this is what she shared with me:
Jordan: "
Our hopes for the kennel is to build a lasting legacy to pass down to our children. We want to make a lasting impression on the Bully world and leave something real to our kids. As for our plans, we have a pretty clear vision of where we are going. Right now we have three dogs; a one year old stud and two 3.5 month old foundation females. We have plans to breed our females to two males from one of the most distinct and reputable Bully breeders in the country who come from the same bloodline as our stud. Once the girls have their first litters we will keep at least one female pup from each of them to grow our foundation. After that all of our females can breed to our in-house stud and we can begin trying to build our own bloodline and in-house productions. We hope and plan to make Lone Star Bullyz a household name in the Bully world some day.
I want people to know that whatever bad image they have in their minds about backyard puppy mills that is NOT what LSB is about. There is a lot more to building a kennel than just having a couple of pets in the yard that randomly has as many puppies as possible. We aren't in this for a quick buck. We have studied and researched all the ins and outs of safe breeding practices, the genetics and dos, and don'ts of breeding, the health and safety risks of these dogs, their nutrition, everything we could possibly learn about them. Our dogs go to the vet more often than our kids go to the doctor. I spend as much time preparing meals for them as I do for our family. They ARE my other children. When you trust LSB for your next family pet you get lifelong friends to go with it. We check in on all of our puppies as they grow with their new families and offer ourselves as a resource for any problems or concerns the new owners encounter later on."
Meet the Family of Lonestar Bullyz
Now I've offered you insights to Jordan's beliefs, reasoning and plans for her kennel. Her quotes tell you a lot about her as for her love and respect of dogs and breeders.
But I also want you to be able to put a face to the family and dogs of her kennel, as well as contact information for her.
The Humans at Lonestar Bullz
Here is a little about the "humans" of the Lonestar Bullyz family. This includes my daughter, Jordan. Her husband Cody and their boys Samuel and Richard.
A few pictures of the furbabies at Lonestar Bullyz:
Finally, contact information for Lonestar Bullyz: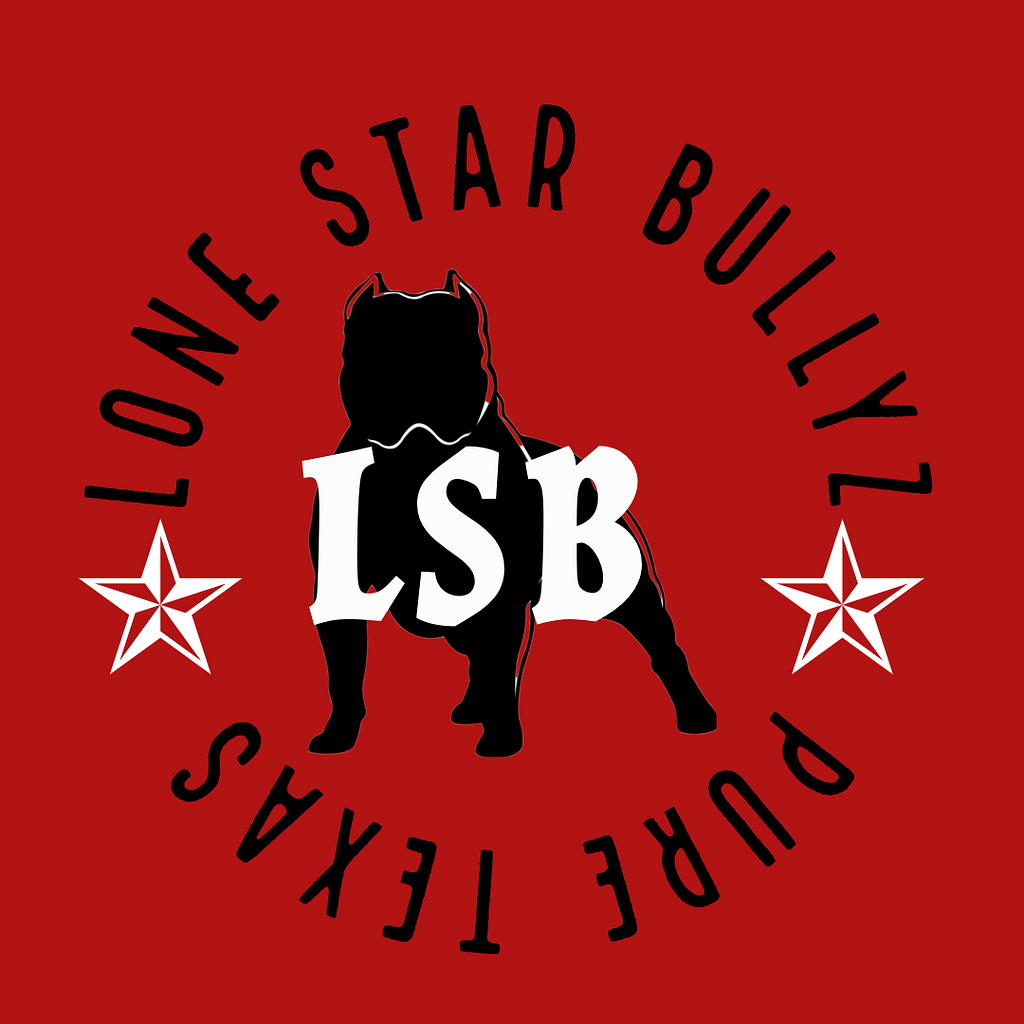 Conclusion
I hope you have enjoyed this post of information on dog breeding, as well as meeting the new Lonestar Bullyz Kennel.
Leave me a comment and let me know what you think!
Most of all, please visit Lonestar Bullyz youtube channel, give it a like, a share, and subscribe to watch this kennel grow and flourish!
Until next time,
Sharon
Also, if you are interested in more information about my pugs and future breedings sign up to my newsletter here: