Follow our journey from loving pet to becoming a service dog! Lollipop, aka Lolly, was given to me this past Christmas, as a pup. My cousin gave her to me.
Lolly is part red heeler and part Australian shepherd. She was just to be a companion and maybe a guard dog, as I live alone in the country.
Little did we know, that just 8 short months later, I would have a heart attack and that Lolly would instinctively alert to something happening with my heart and blood pressure. She had no formal training at this point. In fact, I had no idea what was going on with her when she started acting "weird" and out of control at the same time I started having chest pains.
Continue reading to learn more about Lolly as we have started our journey into formal training for her to become my registered service dog. 🙂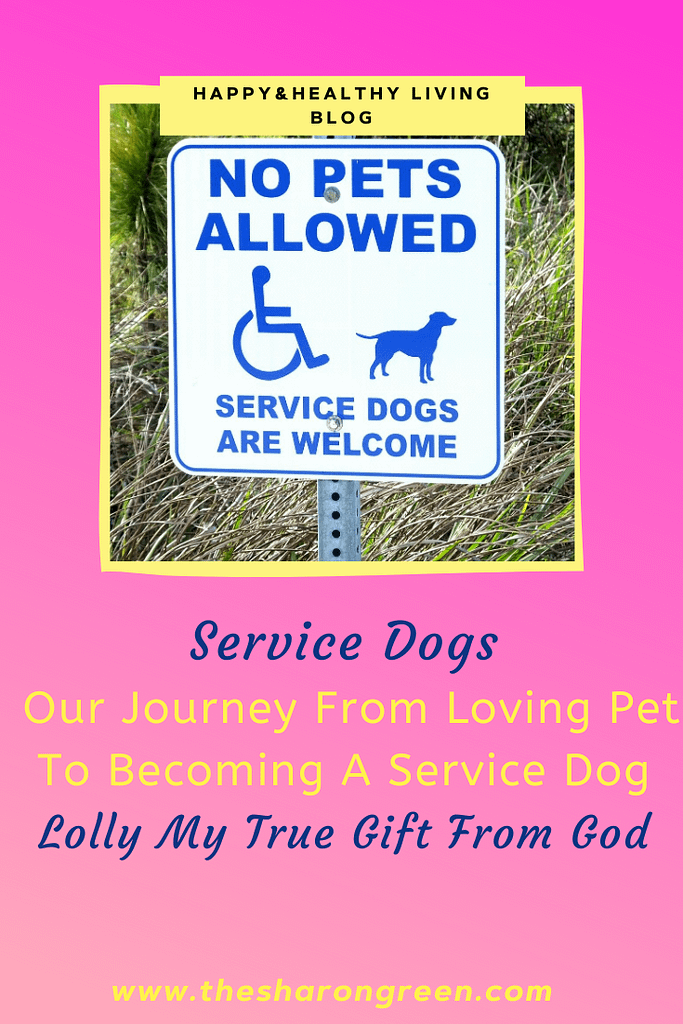 ***Disclosure -Some links in this post may contain
affiliate links and I may receive a small commission
(at no extra cost to you)if you make a purchase after
clicking on a link. To view full disclosure click the
Privacy/Policy tab at the top of the page. ***
Can A Loving Pet Become A Service Dog?
Taking on another puppy was a big decision for me. First because I live alone and already had 2 small dogs.
Buster is my 19 year old pug and Daisy is my 2 year old pug. Pugs are my own personal favorite breed of dogs. I love their personalities and I am very attached to my two little furbabies.
Buster, being in his senior years, needs a lot of attention on most days. He is very hard of hearing and has trouble seeing on his good days, and cannot see much at all on his bad days. Although he seems happy and is apparently pain-free. That is how I want him to stay as long as possible.
So when my cousin had a litter of heeler/aussie mix puppies, although I was interested, I really had to consider all the responsibilities of taking on a new puppy and what it meant for Buster and Daisy.
My main reason for considering taking Lolly was that with me living alone in the country, I wanted a larger dog that could possibly become more of a watch dog than what the pugs could ever be.
So in the end, the decision was made, and I brought Lolly home with me on Christmas of 2019. God apparently meant for me to have Lolly. It has turned out to be one of the best decisions that I have ever made.
Adjusting to A New Puppy
Adjusting to a new puppy in my house was quite an experience at first! There were a few moments when I wondered "what the heck was I thinking"?
As I mentioned, Buster is old, doesn't see good and he can be a bit cranky. He likes his surroundings to be quiet and none of his things to be moved or messed with. HA!
Daisy is my princess and definitely the alpha female, she's never had to deal with another dog except Buster. She is the BOSS!
Then I bring home this rambunctious ball of fur that wants to play constantly. Needlessly to say it disrupted Buster and Daisy's lives in a major way. It took major adjustments for all of us.
But Daisy and Buster taught her the house rules real fast! Thankfully, Lolly is a quick learner.
Next, Lolly had to learn that I do not allow her to chase my yard cats. Again my momma cat taught her another quick lesson. Lolly found out that cats have very sharp claws! Those cats are interesting, but they don't run, they stand their ground and fight back. lol
So, Lolly adjusted quickly and found that she loves farm life. She loves running in her big back yard. Now she even loves playing with Daisy, she just knows when Daisy has had enough and no longer wants to play. 🙂 She also knows that Buster will play at times, but only on his terms.
Discovering Lolly's Talent
Since I live alone with my three dogs, they are all very attached to me. Lolly become overly bonded to me early on. She has separation anxiety whenever I am away from her.
Lolly learns tricks and commands easily. She is very eager to please me, and stays intently focused on me constantly.
Late last month, in June of 2020, I wasn't feeling well. Lolly would not move away from my side. She wanted to be touching me constantly. I had scratched my arm on a tree and since I'm on blood thinners for my heart condition, it bleed easily. She kept sniffing it all afternoon.
During early evening, Lolly had started acting "nervous" and would not stop sniffing my arm. She then started pawing at my arm and sniffing my chest. I laid down on my bed and Lolly instantly jumped up on the bed beside me, which she had NEVER done before. She laid her upper body on my chest, started whining and would NOT move.
I could not get comfortable, I started feeling a tightness in my chest and soon after felt chest pains. I checked my blood pressure and it was 168/101. I took a nitroglycerin pill under my tongue, and an aspirin, but no change. I called my daughter that lives near me.
My daughter came and took me to the nearby hospital. I was actively having a heart attack and was immediately transferred to a larger heart trauma hospital.
Why I Want Lolly to Become A Service Dog
I personally believe that God had a plan when I was offered the chance to take Lolly as my pet. I also believe that Lolly helped to save my life late in June.
Lolly reacted on instinct, she had no formal training, she only knew that something was not right with the human that she loved so dearly. She did not know what to do but to try and let me know something was wrong.
Lolly instinctively knows she has a job to do and she wants to help me. I owe it to her and to myself to get her the formal training that she deserves. And I feel so much more comfortable driving and going places with her by my side. It makes us both very happy and comfortable!
Lolly went to Cowboy Church with me yesterday for the first time!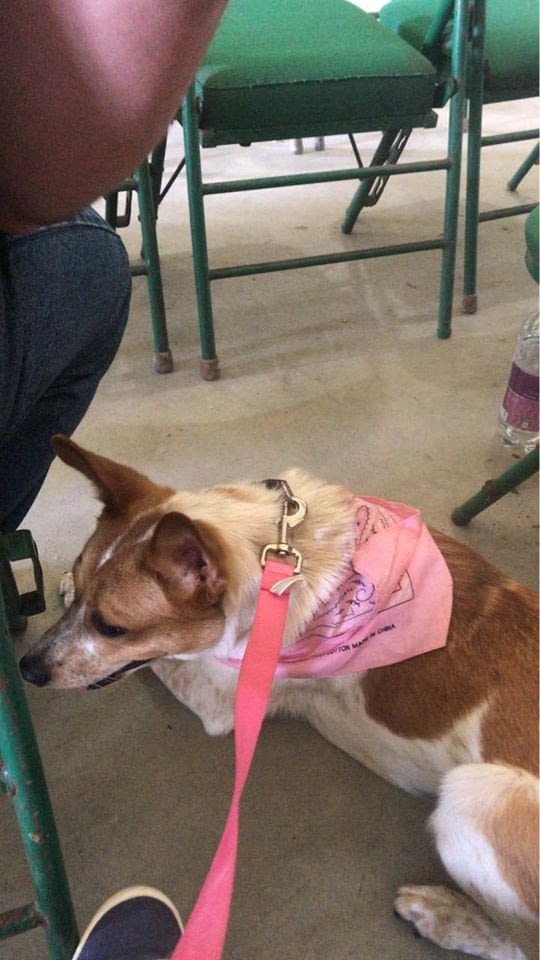 Common Types of Service Dogs
There are common or main types of service dogs, but there also some types of service animals that are becoming more popular now.
There are also Therapy animals, as well as Emotional Support Animals, both of which are different from Service dogs and have a different type of certification.
Service dogs are allowed everywhere their handler goes with their certification because they provide a medical service to their handler.
Here are some of the most common types of service dogs:
Guide Dogs
Hearing Dogs
Mobility Assistance Dogs
Diabetic Alert Dogs
Seizure Alert Dogs
Seizure Response Dogs
Psychiatric Service Dogs
Autism Support Dogs
FASD (Fetal Alcohol Spectrum Disorders) Dogs
Allergy Detection Dogs
Some of the service dogs that are now becoming more popular are dogs for Anxiety, blood pressure, heart attacks, and strokes.
Check out this story of how this dog helped save his owner's life from a stroke! Cardiac Alert dog saves his handler from a stroke.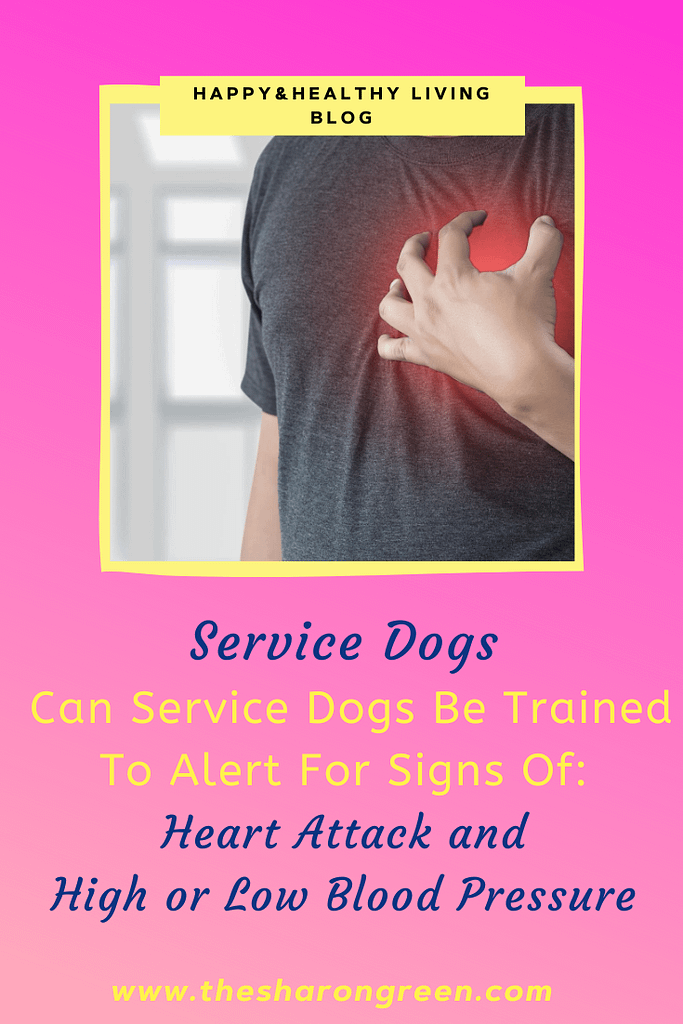 How Did Lolly Know I Was In Trouble?
I really don't know for sure how Lolly knew I was trouble. But in my opinion, I think she smelled a difference in my blood.
When a person is having a heart attack, there is a chemical in your blood called Triponin. During a heart attack the triponin levels will be high. Mine were extremely high that night in the ER.
Apparently that smelled "wrong" to Lolly and she didn't like it. So now we are in formal training for her to give the same signal to me every time she smells that.
Since returning from the hospital, she gets nervous, pulls at my wrist, and sniffs my chest if my blood pressure gets too high. She gets nervous, and sniffs my armpits if my blood pressure gets too low. Whenever she does either of these things, I immediately praise her, check my blood pressure and give her a treat. I only give the treat if she was correct about my blood pressure and assure her that I'm ok.
We are also continuing formal training for socialization and social manners in order to get a service dog certification!
Continue following our journey through my blog.
Subscribe to my newsletter to never miss a post!
And please, leave a comment or contact me through my contact page to let me know your opinions or advice on service dogs and training!!!
Until next time,
Sharon