Discovering your purpose in life can become a real chore! But it shouldn't, in fact you really shouldn't have to work at finding your purpose.
However, if you are feeling as if you don't know your purpose in life, or maybe you feel like you don't have a purpose at all, then keep reading!
Perhaps this article can help you understand our purposes in life and how to discover yours!
***Disclosure -Some links in this post may contain
affiliate links and I may receive a small commission
(at no extra cost to you)if you make a purchase after
clicking on a link. To view full disclosure click the
Privacy/Policy tab at the top of the page. ***
Having A Purpose In Life
We all have a purpose in life. No matter how big or how small our purpose may seem to us, we still have a purpose that works for the good in the scheme of the "big picture" of things.
Don't feel bad about yourself if you feel that you don't have a purpose, because you absolutely do have one.
Perhaps you haven't discovered your purpose yet, or maybe you are serving your purpose and you don't even realize it!
Living A Life Without Purpose
Living life without much purpose becomes stressful and not very fulfilling. Everyday starts feeling like a dreaded chore.
If you find yourself waking up feeling unrested, feeling depressed, or unwell and facing a dead-end job that you hate, then perhaps you are living life without a purpose.
Check out this article, What is God's Purpose For Your Life (and How To Find Out). This article shows 6 ways you may not be living out your purpose.
Discovering Your Purpose
Discovering your life's purpose does not have to be as difficult as it seems, or as hard as we make it. Finding purpose for our lives is really quite simple.
First, what is purpose? Basically, your purpose is what motivates you. Your reason for getting up each day. Purpose helps motivate you to make decisions, plan your goals, offers a sense of direction and helps give meaning to your life.
Read more about what is your purpose in life by clicking here. Learn to follow your heart and do what motivates you.
Discovering Purpose Through Passions
Think about your hobbies, pastimes and even passions in life. The things that bring you the most joy.
You may think these things are only beneficial to yourself, but now consider how these same activities might help someone else.
Something that seems like a mere hobby to you such as a creation of art may bring joy and happiness to someone else. Share your creations and your joy.
Do you ever wonder why you love doing the things that you do? Why some people love taking care of others? Some love science and others don't? Why some love numbers, math, and accounting while others don't? Then there are people that love public speaking while others just can't do it.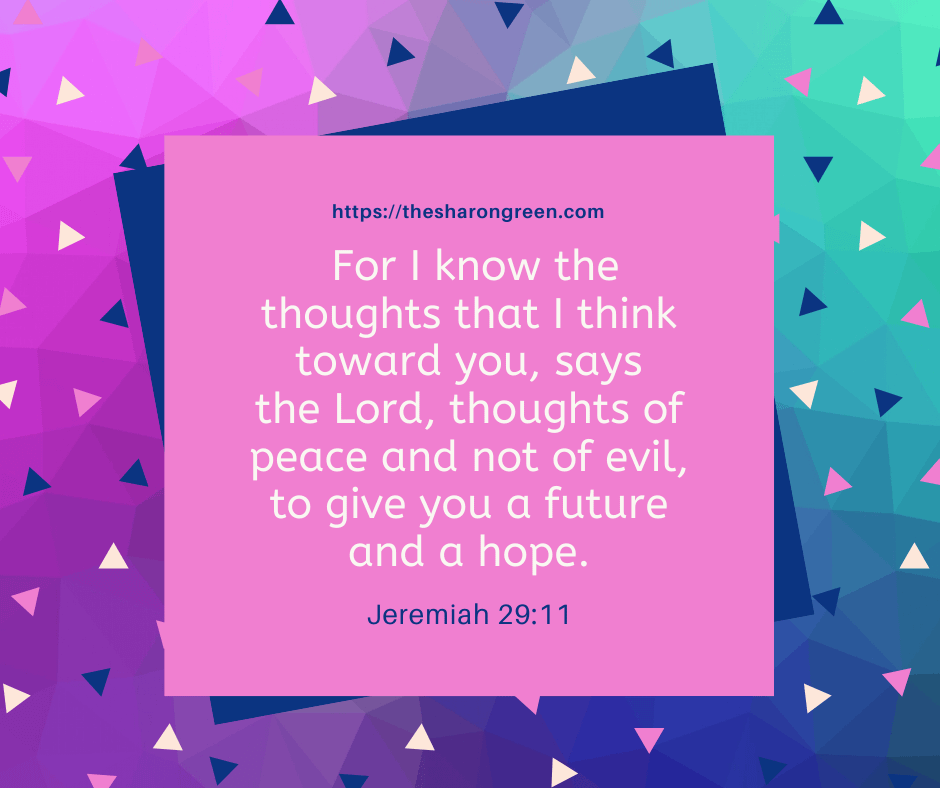 God puts these desires in our hearts because we need all these different people to perform all these different tasks to keep the world functioning. God knows we need all types of people and professions to make the world work.
God has a plan and a purpose for each one of us. Each and every person has a unique purpose in life, and our purpose can even change along the course of our lifetime.
"God doesn't call the equipped, son. God equips the called. And you have been called."

― Rick Yancey, The 5th Wave
Denying God's Plan For Me
Straight out of high school I became an unwed teen mom. You can read more about that part of my life by reading how I Got One Thing Right.
Although this was not how I planned on starting life fresh out of school it was apparently how God planned it for me. At that time in my life I wasn't even sure that I wanted to be a mother at all, but once I knew I was pregnant it felt like there was no other choice. I never regretted my choices.
Then as a young mother, I went to work at a mental health/mental retardation facility nearby. It was the largest and main source of employment in the area especially for people without a college degree.
I found myself working on the units doing personal care of individuals and hating it from day one! I wanted to quit halfway through my first shift. I came home crying, but my mother would not let me quit. I prayed each day for God to just help me dredge through the shift.

Finding and Losing Your Purpose
All throughout my high school years I had plans to go to college and become an accountant. I loved math and numbers, so this is what I knew I wanted to do with my life.
But not even a full month into my life as a new mother and an employee of the state of Texas, I found that God had given me a servant's heart. I no longer thought of being an accountant. Now I wanted to take care of people, especially those with mental illness.
Soon I found myself eager to go to work each day. I began taking college courses in psychology and enjoyed my patients and co-workers.
In what seemed like such a short time, but was actually 18 years of service there I had earned my nursing degree along the way and finally changed employment. I then went to work for an Alzheimer's facility before I was forced to retire early due to health problems of my own.
Being a nurse was my passion! It was a huge part of who I am as a person! I feel that was my purpose in life, my true calling.
However, being forced to retire early from that profession has caused me to feel like I lost my purpose in life.
Regaining A New Purpose in Life
Obviously God gave me a servant's heart and lead me to the nursing profession. Early in life, I would never have imagined myself as a nurse, but God lead me down that path and filled my heart with passion for the profession.
When my health began to fail and I was forced to retire it was difficult for me to adjust to not going to work. But soon I learned to welcome the rest after so many years of working long hours and double shifts.
However, I have continued to always feel as if part of me is missing. I had lost the "sense of self". Especially now that I live alone I found it difficult to feel any purpose to daily life.
I truly miss working as a nurse and caring for patients. Even more so right now during this coronavirus crisis.
Once again God has shown me how I can still continue to help others. Almost a year ago I started this blog simply because I enjoy blogging. Now God is showing me that I can use this blog to help others going through similar things that I have been through.
God can use any mess and turn it into a message. I have been through many things in my life, but God has always been there, even when I turned away from Him. God never left me.
Wrap-Up
Everyone has a purpose in life. You will know you are living your purposeful life when you feel the passion, motivation and joy in everyday life.
Search your heart for the things that bring you joy and happiness, then act on those things daily.
Live life on purpose and to the fullest each day. Set goals and make a plan to work toward a life that brings you pleasure.
Know that God is real and God puts passions and desires in our heart that will bring us happiness. God has a plan for each of us. He wants us to have the desires of our hearts and live happy lives.
Leave me a comment and let me know what you think!
Subscribe to my newsletter to get a free download and so you never miss a post!
Until next time,
Sharon